We look at why Laney LFR cabinets are so good and why its one of the best FRFR Cabs for digital guitar rigs
Let's discuss the importance of the Laney LFR cabinets, why Laney LFR cabinets are so good, and why we think they're the best FRFR cabinets if you actually want a decent sound!
Are you using the right FRFR cabinet fo your digital rig?
When it comes to digital guitar rigs, i.e. setups that include Fractal, Line 6 Helix/POD, Kemper and Headrush style pedalboards, for example, and you want to hear them through a guitar cabinet, you're probably wasting your money unless you get a good quality FRFR cabinet that can effectively convey the sound of the built-in cab sims or IR loaders. FRFR cabinets or flat response cabinets give you the cleanest possible sound so you can actually use the cab sims. But what happens if you're running out of processing power on your rig? Or your digital rig has poor-quality cab sims?
Enter the Laney LFR FRFR cabinets.
Today, we're looking at exactly what the benefits of the Laney LFR cabinets are, explaining some benefits of FRFR cabinets in general and why speaker choice is so important for digital guitar rigs.
The rise of the digital guitar rig
Let's be honest, analogue or "regular" guitar rigs with a combo amp, or head and cab can be tough to carry around – especially if you're gigging a lot. This need for a lighter, streamlined rig is part of the reason why smaller wattage amps are becoming popular , going ampless on guitar, creating a flyrig on bass or going completely digital with a digital guitar rig with the likes of Kemper, Line 6 and other digital modelling rigs is becoming far more popular. Not only are some musicians choosing smaller wattage amps, but digital guitar rigs have become one of the go-to tools for guitarists who want absolute accuracy of tone at EVERY gig, as well as the ability to travel lighter to gigs.
Don't get me wrong – we love the sound and feel of cranked loud higher-wattage amplifiers here, which is part of the reason why Laney amps are so popular, and they will always have a place. But you CAN have both!
I myself have both an "analogue" rig with tube amps and pedals, as well as a digital rig playing directly through a modeller. But the difference is that digital rigs can emulate a vast array of classic and modern amp tones so I don't always have to drag my 2×12 combo amp to gigs.
However, to truly shine, digital guitar rig setups require a specific type of amplification: Full Range Flat Response (FRFR) cabinets to get the best sound, which is why the Laney LFR cabinets are so good. This blog post will delve into the importance of FRFR cabinets, with a special focus on the Laney LFR series, and how they can improve your digital guitar rig by giving you the sound you ACTUALLY want.
What Are FRFR Cabinets?
FRFR stands for Full Range Flat Response. FRFR cabinets are designed to reproduce the output of a digital rig and preserve the cabinet emulations of your modelling effects without adding any additional tonal characteristics. Where traditional guitar cabinets add their own colouration to the sound, FRFR cabs don't colour your sound whatsoever so you can preserve the cabinet emulations in your digital guitar rig.
If you care about your tone, this makes FRFR cabinets an essential part of your digital guitar setup, as they allow the cab sim emulations, for example, those through a Two Notes Torpedo or Laney DynIR pack with emulated sounds to be preserved.
As Simon Fraser-Clark, tone wizard at Laney puts it an FRFR is like a " studio monitor that adds nothing frequency-wise – what you put in is what you get out – nothing else – it's everything with no colour."
So why is that a good thing?
Benefits of FRFR Cabinets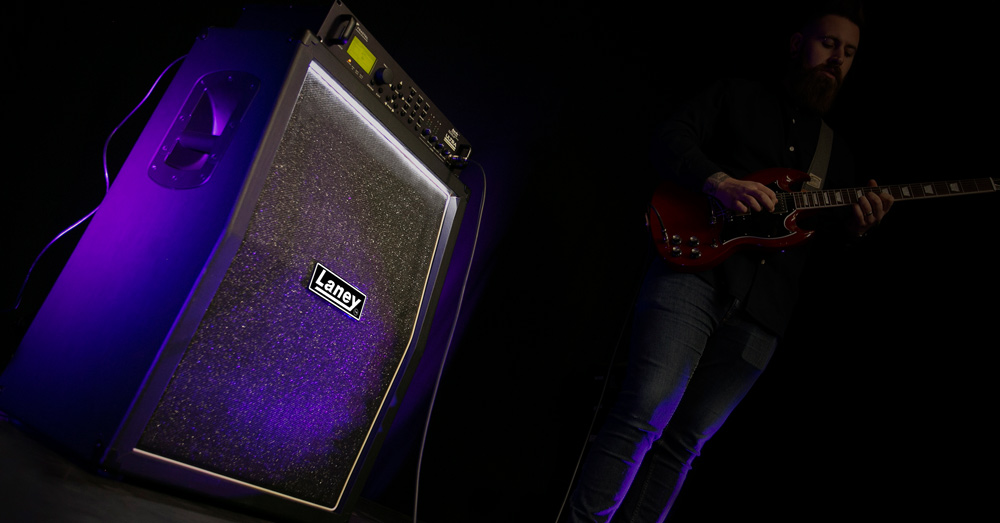 The main benefit of FRFR cabinets is that they add nothing to your sound in terms of a "signature tone". They have a flat response which preserves the tone of your Cab Sim technology and provides much greater clarity than a traditional guitar amp. It's essentially a blank canvas of a cabinet! Where all cabinets provide a signature tone due to the speakers used, FRFR cabinets provide zero colouration.
They're more accurate so your plugins, digital rigs and amp/cab simulations sound exactly as they should do. You might want to run a Laney Lionheart DynIR plugin or Laney Supergroup cabinet DynIR plugin, and if you do so through a regular third-party cabinet that is not an FRFR cabinet, you're not only getting the Laney sound from the plugin, but the signature sound from that OTHER cabinet – causing a muddy, inaccurate, mish-mash of sound.
FRFR cabinets like the Laney LFR speaker cabs also have a consistent frequency across the board so you're never colouring your sound.
You may prefer the sound of open back vs closed back cabinets in simulation too, something which a good FRFR cabinet, like the Laney LFR can handle as it's a flat response.
The Importance of Drivers in LFR Cabinets
The speaker, or driver, in an FRFR cabinet, plays a crucial role in how it sounds. Changing your speaker can be like "night and day," transforming even an average-sounding solid-state amp into something much more impressive.
As Simon puts it, In essence, a speaker is a "glorified EQ curve," and different brands of speakers can have a significant impact on your tone. For example, a vintage 30-watt amp's speaker might offer a mid-range scoop with a sizzle at the top end, while an Eminence speaker in a Fender cab might be much more mid-range focused. Again, the sound of the Supergroup cabinet's vintage-voiced drivers might be something you want to preserve, which is why we've put 12″ Custom Drivers and a 1″ La Voce compression driver in both our LFR speakers – they won't colour your tone whatsoever, but give you as good a sound of studio quality monitor onstage. We've also gone into detail as to why guitar cabinets and different size speakers are important.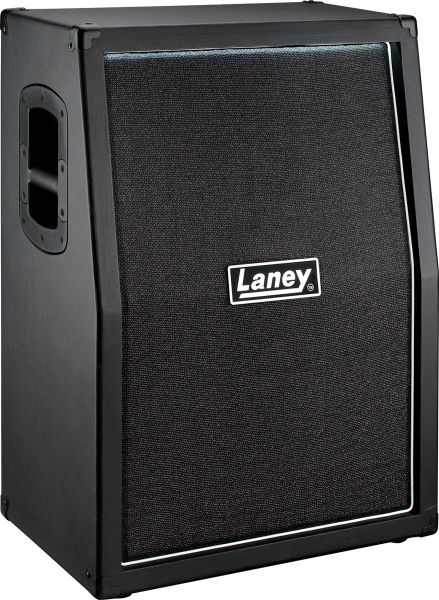 Pictured: The Laney LFR-212 FRFR Cabinet
Why are the Laney LFR Cabinets So Good?
The Laney LFR cabinets, such as the LFR-212, are designed specifically for use with digital guitar rigs. They offer a full-frequency flat response, ensuring that your carefully crafted digital amp, cabinet and pedal tones are reproduced faithfully, without any unwanted tonal colouration. This means that the sound you hear from your LFR cabinet is the sound you created on your digital rig.
However, there is one key reason why the Laney LFR cabinets are so good…
One of the best benefits of the Laney LFR cabinets is the switchable cabinet emulation which is ideal for those who want the choice between using Cabsims from their digital rigs, or if you want to save on processing power by NOT using a Cabsim on your digital processor.
If you're finding you're running low on CPU and processing power, knock the Cabsim off on your digital modeller and use the cabinet simulations we've built in for you. This feature allows you to add the frequency characteristics of a Laney cabinet that keeps your rig sounding as good as it can.
If you DO want the sound of your digital cab sims from your modeller, set the LFR speaker to FRFR mode, and the custom voiced 12″ drivers and a cutting-edge 1″ LaVoce Compression driver in the LFR cabinet flawlessly reproduces every nuance of your digital guitar setup with unparalleled detail and accuracy.
As Simon puts it – "If you're not used to the sound of an FRFR cabinet, it may sound too bright. Additionally, digital modellers can run out of CPU pretty fast if you're running amp, cabinet AND pedal settings. So we've added two Laney speaker emulations on the LFR cabs for you, a 1×12 and a 4×12 which allows you to tailor the response. This means you can use the LFR cabinets with regular modeller with cabinet mod OR turn cabinet settings off on your modeller to save processing power."
And if you choose the Laney LFR FRFR speakers, you have a lot of connectivity options such as MP3/Aux in, XLR DI out at your disposal, voltage select for different regions, ground lift AND an LED light!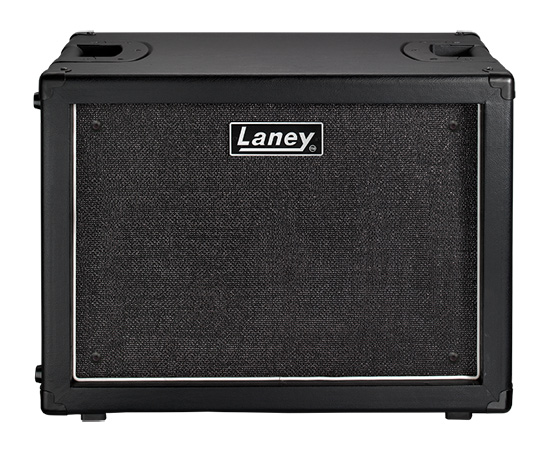 Pictured: The Laney LFR-112 FRFR Cabinet
So why should I use the Laney LFR Cabinets in digital Modelling rigs?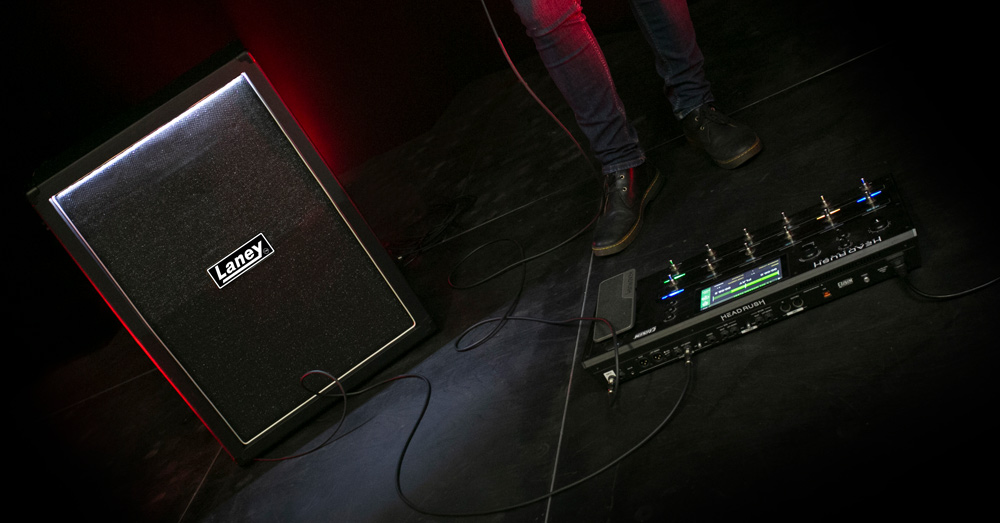 When using a digital modelling rig your setup likely already includes a speaker cab model. But running this into a regular cab can result in two sets of EQs, which is not ideal. An LFR cabinet can avoid this issue, as you can set them in FRFR mode.
However, if you're not used to the sound of an FRFR, it may sound too bright. The Laney LFR cabinets offer a couple of options that allow you to tailor the response. You can use it with a regular modeller with a cabinet model, or you can turn the cabinet settings off on your modeller. This can remove the need for cabinet emulation from the modeller and reduce your CPU usage, which can be a significant benefit as cabinet emulation can drain maybe 80% of your CPU.
LFR Cabinets: More Than Just Revoiced PA Cabs
Laney LFR cabinets are not simply revoiced PA cabs; they are specifically designed guitar cabinets, whereas some other FRFR cabinets out there are – part of the main reason why Laney LFR cabinets are so good. We have designed the LFR cabinets to look AND sound like guitar cabinets for guitar players, and they even light up. As guitar legend, Guthrie Govan and Laney LFR user highlights "These cabinets give you real feedback!" and As Simon puts it, "As guitar players, we listen with our eyes." Products that light up keep people's interest, and the Laney LFR cabinets are no exception – they just look so cool.
Final thoughts on the Laney LFR Cabinets
If you're thinking of getting into the digital guitar rig world, and you care about your sound, the Laney LFR is the best FRFR cabinet out there, in my opinion. The Laney LFR series has been designed by guitarists for guitarists, offering a high-quality FRFR cabinet that faithfully reproduces your digital tones, providing consistency and flexibility in your sound, but gives you the option to reduce CPU on your modeller AND look cool onstage.
You have a 1×12 cab or 2×12 cab to choose from, so you're ready for smaller or larger setups and did I mention they  both light up!
Laney LFR Cabinet FAQs
Can you use the LFR speakers with a tube head?
Yes. But not from the speaker output! You would need to come out of the FX send on the tube head if it has one. The tube head would need to be loaded down in order for it not to be damaged so it would need to be connected to a load box or a driver etc. In this use though you would not get any power amp content to the signal etc.
Can you use the Laney La-studio with the LFR speakers? Do you have to just set the powered speaker to "off" ?
Yes – the Laney LA-STUDIO would works fine with an LFR-212. You would connect the XLR out of the LA-STUDIO to the in on the LFR-112 and LFR-212. Set the LFR-112/212 to FRFR mode and you would hear the different cabinet characteristics of the LA-STUDIO's torpedo setup as you flicked through them. Don't set the powdered speaker to off – the level coming out of the LA-STUDIO via the XLR output is a line-level signal and requires amplifying. Do not connect the speaker out to the LFR-112/212. That will not work!
Is it safe to use LFR or FRFR speakers with tube heads?
Yes – But not from a tube heads speaker out! It would need to be loaded down first by connecting something like a Captor X or a Suhr REACTIVE LOAD etc. See my answer to 1.