We show you how to play your electric guitar on stage without an amp and how to put together an ampless guitar rig – this is how you go ampless on guitar and tour with just a pedalboard!
With the rise of the smaller wattage amps over high wattage amplifiers, venue noise constraints and the fact that tube amps can be pretty darn heavy to carry around, ampless guitar rigs are becoming increasingly popular with gigging guitarists.
Ampless guitar rigs are just easier for us!
Let's face it, although we all love the sound of a cranked tube amp, finding out how loud our guitar amp should be before getting a noise complaint from the engineer and the feel of pure amplifier power behind us onstage is not always practical!
Plus, if you're a guitarist who's tired of lugging a heavy amp to every gig, you need to set up a fly rig and use your UK pedals in the USA or you find yourself playing in venues where there isn't enough space for an amp, then it's time to consider joining the world of ampless guitar rigs.
Don't get me wrong. Amps have their place! And we're responsible for creating some of the most iconic and loved guitar amps of all time, however, we sometimes need a smaller set-up – which is why we also created the Laney Ironheart Loudpedal but we'll get to that in a moment.
Ampless guitar rigs offer a compact, portable solution for playing live shows without the hassle of lugging around an amplifier – you can just gig with your pedalboard.
But what is an ampless guitar rig? How do you create an ampless guitar rig? And does going direct in on guitar actually sound good?
In this article, which is a follow-up to our ampless bass rig guide I'll explore what it means to go ampless, the benefits of using an ampless guitar rig, and how to set one up so you don't lose your tone and don't annoy the sound engineer onstage.
What is an ampless guitar rig?
In simple terms, an ampless guitar rig is where you plug your pedalboard into a PA system and use a preamp and power amp pedal to sculpt your tone and generate the line-level sound rather than a traditional amp.
Let's explain this further.
What is going direct in on guitar or ampless on guitar?
Going direct-in on guitar, or going ampless, is when you connect your guitar directly to the mixing desk or PA system without using a traditional guitar amplifier and just rely on the monitor speakers or your in-ear monitors to hear the sound of your guitar. There's no cab. Just you, your guitar, a pedalboard and a connection to the PA. That's how you can play the guitar onstage without an amplifier!
In an ampless guitar rig, you either use analogue pre-amp and power amp pedals, digital pedals or software through a DAW that emulates the sound of a guitar amp. The output from the pedal is then connected to the PA system or recording interface, which enables you to play without a physical amplifier or cabinet onstage.
This technique is becoming more popular with touring musicians who demand the same sound at every gig, and as technology advances and offers more realistic emulations of traditional guitar amps, it's getting REALLY hard to tell the difference between an ampless guitar rig and a cranked amp especially if you're using IR and/or Cab sims.
We know because we built one of the best pedalboard amps that makes life easier – but more on that soon.
If you want to go even further, you can even create entirely digital guitar rigs, where we cover in our benefits of FRFR cabinets here.
5 benefits of ampless guitar rigs
Many musicians appreciate the added control reliability, portability, and flexibility of using an ampless guitar system, especially when playing live shows and travelling internationally. When you can't bring your own amps, you have to rely on (hopefully) good backline. As we all know, unfortunately, a good venue backline is about as reliable as the backstage wi-fi – not good.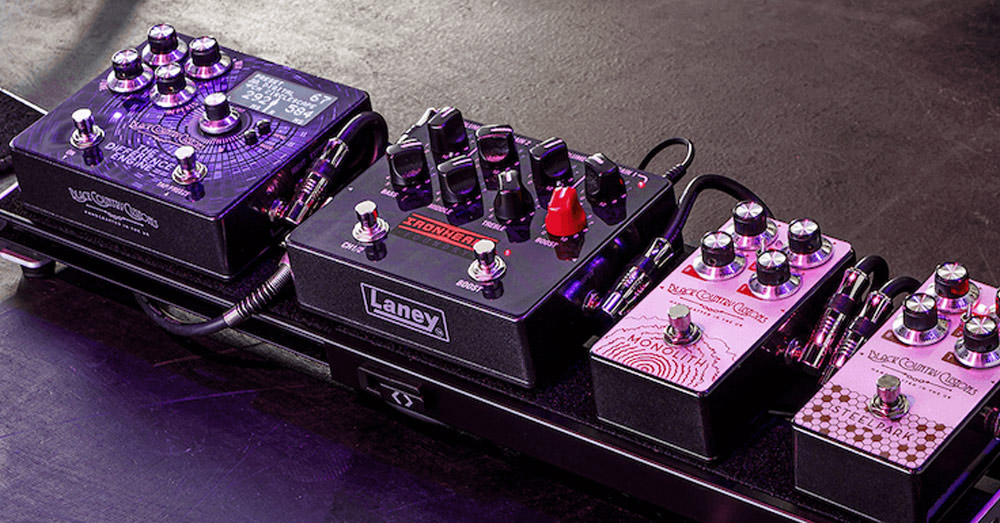 Pic: The Laney Ironheart Loudpedal (2nd from left) makes it effortless to set up an ampless guitar rig
So here are the major benefits of an ampless guitar rig in more detail.
1. Portability
Ampless rigs are way smaller and lighter than traditional setups where you have to carry amplifiers or cabinets to a gig. You can just turn up to the venue with a pedalboard and plug straight into the PA system. This setup cuts down the amount of gear you need to take to a gig, and you can basically tour with just a pedalboard, some guitar leads and a guitar.
Of course, we love the sound of a guitar amp, whether it's solid state or tube amp, but sometimes the venue is too small for our 2×12 or 4×12 cabinet and we can't fit everything in the van when gigging – not all of us have the luxury of touring with a rig the size of Billy Corgan's amp set up!
2. Consistent sound
By relying on a digital sound source, your tone remains consistent no matter the venue or PA system – which is probably the major benefit for tone snobs (like me).
There's nothing worse than having to use someone else's backline, especially if you're used to a high-gain amp and they've got a twin reverb, or they've got a 60-watt solid state and you're used to tube-saturated distortion. Tone is everything to us guitarists!
With an ampless guitar rig, you connect your pedalboard directly to the PA system, giving the sound engineer the WET signal from your setup. This means they control the volume for the audience but can't alter your tone. This means you maintain the unique characteristics of your ampless rig settings. You send your desired tone through the XLR-DI, and the sound engineer uses that sound.
This eliminates the guesswork of what backline the venue might have and the struggle of having to use someone elses amplifier.
You get the same consistent sound at every gig.
3. Flexibility of sound
With an ampless guitar rig using the likes of the Laney Loudpedal (and all it's benefits) for example, you can quickly and easily switch between different amp models, settings, and effects. This allows for greater creative expression and the ability to adapt to different musical situations which is ideal for session guitarists.
4. Lower stage volume
When you go ampless on guitar, there is no physical amp onstage. This means stage volume is almost non-existent aside from the monitor speakers and drummer, making it easier for your sound engineer to achieve an ideal mix for the audience and avoid feedback issues altogether. They're not micing anything up except the drummer, so the sound engineer isn't fighting with amplifier volumes.
You can essentially run a silent stage (aside from the drummer) which is becoming more common for bands these days.
5. You're going ampless and direct-in onstage!
This is the obvious benefit here – you have less stuff to set up, less stuff to buy and can set up/pack down in 30 seconds which is ideal for festival change-overs. Plus, we all know singers DON'T help with loading gear, so you remove those kinds of arguments too.
Just connect your ampless guitar rig to a DI box or use the DI connection on your board for the sound engineer to take a signal and power your sound through the PA system.
Easy.
Getting Started: How to Build an Ampless Guitar Rig in 3 ways
Building an ampless guitar rig requires a few essential components. You have multiple options open to you, but for this, we'll keep it as simple as humanly possible and show you 3 main ways to go ampless on electric guitar ranging from the most expensive option, to the cheapest/easiest options:
The three easiest ways to go ampless on guitar are:
MOST EXPENSIVE – Pedalboard with preamp and power amp – Guitar >> Pre-amp>>Power-Amp/Cab Simulator>>PA System
MID-WAY – Pedalboard with multi-FX unit + Cab Simulator – Guitar >> Multi-FX >> Cabinet simulator >> PA System
BEST/EASIEST – Pedalboard Amp – Guitar >> Pedalboard Amp >> PA System
1. Pedalboard with preamp and power amp = Guitar >> Pre-amp>>Power-Amp/Cab Simulator>>PA System
Unfortunately, you can't just go direct into a DI with an electric guitar like you can with an ampless bass rig. You need some extra stuff and unfortunately, option#1 is your most expensive option, requiring you to collect a bunch of gear.
A guitar amp has two main parts, preamp and power amp – but if you're going ampless you're losing out on these essential components. The preamp section allows you to adjust your sound using EQ and gain controls, while the power amp powers your loudspeaker/cabinet.
A preamp pedal is simply a pedal version of the tone-shaping component and you need it to get a good amp tone. If you just want a clean tone that's totally fine, but ideally, you want something that gives you a little bit of character and adds life to your tone.
The power amp is what makes your signal loud. Without it, you won't have any power, just a lifeless (and very quiet) tone that the sound engineer can't use.
So with this option, you need:
A guitar (obviously)
A pre-amp pedal
A power amp pedal
And/or cabinet sim
You can use your preamp to get the tone of your amp, the power amp to get the power and if you have a cabinet simulator, you can use that to recreate the sound of your favourite guitar cabinet, making it sound like you have a full-blown guitar cabinet onstage.
Be aware: the sound engineer will need to take the DI signal out of the cabinet simulator as a power amp needs a cabinet to work. However, if you have a cabinet simulator they can just take the signal out of that.
This option for putting together a fly rig on guitar can be a bit fiddly and will take up room on your board. It's not the easiest or cheapest way to go ampless onstage, but it'll get you there.
2. Pedalboard with multi-FX unit + Cab Simulator = Guitar >> Multi-FX >> Cabinet simulator >> PA System
This is the easiest next step when you want to go ampless on guitar or create a fly rig. Fly rig means a rig that you can fly on a plane with. Most professional-level multi-FX units allow you to tour or gig with just the unit, and a cabinet simulator as they have preamps built in.
Some have cab sims built in, too, so your sound engineer can take a direct DI out of that.
However, not all multi-FX units are created equal, so make sure you check you have a preamp built-in as well as a DI out.
The benefit here is that you can have all of your pedal sounds in your multi-FX unit, and if the unit has the functionality, take a direct line-out to the PA.
If you don't have cab sims built-in or a power amp built-in, then you'll still need them in pedal format.
However, the easiest way to set this up is:
A guitar (obviously)
A multi-FX unit
Cabinet sim
3. Pedalboard amp = Guitar >> pedalboard amp >> PA System
The easiest and best way to go ampless on guitar is to use a pedalboard amp like the Laney Ironheart Loudpedal. This is because you have a preamp, power amp and all the tonal sculpting features of a guitar amp in a box, that sits on your pedalboard.
This option COMPLETELY replaces your guitar amp, creating the easiest fly rig possible, allowing your sound engineer to get the sound direct from the DI connection and enabling you to have all the effects you've worked hard to buy on your board instead of a Multi-FX unit.
For this set up you need:
A guitar
A pedalboard amp
That's it. Seriously, that's all you need.
Pedalboard amps let you plug right into PA systems and some give you the same amp sounds as you'd expect from a "real amp". Some have cab IRs built-in, so they mimic real guitar cabs for a natural vibe. Just grab your guitar and pedalboard, plug in and you're ready for a gig! Pedalboard Amp pedals are perfect for recording too – no mics needed, just connect to audio interfaces and enjoy the sound of an amplifier direct to your DAW. Some even hook up to speaker cabs like an amp head.
Now we said SOME pedalboard amps give you real amp sounds and SOME pedalboard amps have cab sims built in.
Well, we went one further and created the Laney Ironheart Loudpedal – a 60-watt amp in a box, flat to the floor. Let's expand on that…
The best way to go ampless on guitar
Using a pedalboard amplifier is the best most effective and easiest way to go ampless on electric without sacrificing tone or your guitar pedal qualities. It's just your guitar, your pedals, and your pedalboard amp directly into the PA.
If you're like me, you record with multiple bands and you like to play a lot of different genres, you've invested in tonnes of pedals, you'll want a pedalboard-based ampless guitar rig instead of a multi-FX unit.
With this set-up, you have your electric guitar into the pedalboard amp such as the Laney Loudpedal, and your effects pedals in the send/return of the preamp pedal or into the input – just like an amplifier.
I'll explain further down below with a diagram, but with this option, you get all the tonal EQ options of your preamp, as well as the ability to hook up electric guitar pedals and effects like distortion, reverb, delay and any other effects you need.
This is a fully working, silent electric guitar set up without an amplifier or cabinet. All you need to do is arrive at the gig, plug your pedalboard in and you're ready to play.
If you're a session musician, you play in a wedding band or you're a touring musician, this is the ultimate ampless guitar or fly rig set-up that provides all the options you need.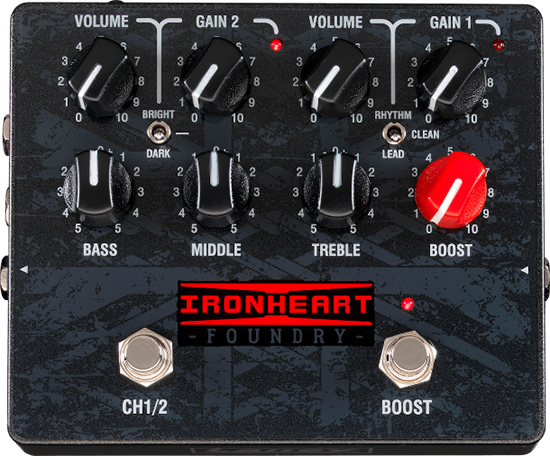 Pic: The Laney Ironheart Loudpedal is the easiest way to go ampless on guitar
Where do you place the pedalboard amp in the guitar signal chain?
The best place to place the pedalboard amp in the guitar signal chain is last as it acts the same as an amplifier.
Guitar>>Effects>>Pedalboard Amp>>PA System
The LOUDPEDAL can actually function just like your regular amplifier head, plugged directly into the PA system or passive speaker cabinet. It's loud as it is a 60-watt amp in a box!
The Laney Ironheart Loudpedal features a built-in XLR as well as a send and return that lets you send your WET signal direct to the PA system and retain the quality of effects via an FX loop. This means your sound engineer gets the sound of your guitar and your guitar effects in a way that makes it easier for them to control. Just work with your sound engineer and go through the different channels to make sure they're aware of any jumps in volume when you hit that BOOST.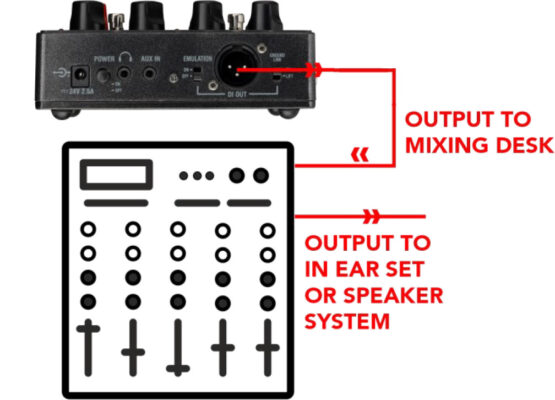 Pic: The Laney Ironheart Loudpedal can connect directly to a mixing desk
The image above shows you how easy it is to connect your Laney Ironheart Loudpedal to the mixing desk and go straight in. All the sound engineer needs to do is plug into your DI connection on the Loudpedal and the entire sound of your pedalboard is there for them to mix out front without affecting the sound onstage!
The image below shows you how to place the Laney Ironheart Loudpedal into the PA system with your pedals just flowing into the front of the amp pedal – the same way you would use a guitar amp!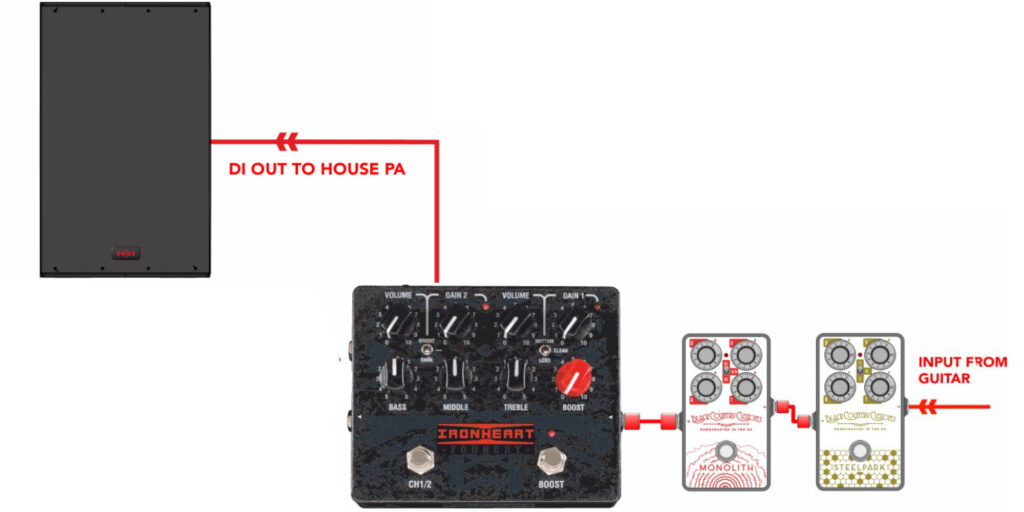 Using the Laney Ironheart is the absolute easiest way to go ampless on electric guitar.
We've covered the benefits of the Laney Ironheart Loudpedal, but in a nutshell, it's a 60-watt Ironheart amplifier in a pedal – with the same tone sculpting functionality, 2 channels, a boost and a CAB sim built in.
It's brilliant!
Tips for Playing an Ampless Rig on Stage
Switching to an ampless rig can be a big change for some guitarists, especially if you're used to playing through traditional amplifiers. Here are some helpful tips to ensure you don't freak out using one for the first time:
Ensure that you can hear yourself clearly on stage, either through a monitor or in-ear monitoring system. It's going to feel weird not using an amp onstage – but trust me – it's pretty awesome once you get used to it.
Invest in a backup system or plan in case your ampless rig fails. This could be a small, portable amplifier or a backup rig with minimal components. I always have 2 pedalboards in my fly rig, just in case.
Practice with your ampless rig at home and during rehearsals to become comfortable with the setup and get a feel for how things may sound differently. Especially if you're using in ears!
Common FAQs about ampless guitar rigs
Ampless bass rigs can raise some questions, especially for those new to the concept. Here are answers to common FAQs that I know you're wondering:
Is an ampless bass rig suitable for all types of music?
Ampless rigs are versatile and can be adjusted to suit various music genres, from rock to jazz and more – there's no limit as it's just like using a full rig.
Can I use an ampless guitar rig for both studio recording and live performances?
Yes, an ampless guitar rig can be used for both contexts. The Laney Loudpedal connects with your DAW easily allowing you to record at home or in the studio complete with a cab sim.
Will an ampless guitar rig work with my existing pedalboard?
In most cases, yes, as long as you have a preamp, power amp and DI box in your signal chain to provide a strong, clean signal to the PA system. However, you could just get the Laney Ironheart Loudpedal pedalboard amp and negate the need for all the unwanted extra stuff as you have everything you need.
Final thoughts on ampless guitar rigs
In conclusion, ampless guitar and ampless bass rigs can offer a convenient, portable, and very cost-effective alternative to traditional amplifier setups allowing touring musicians to turn up to a gig and get the same sound at each venue, regardless of what (terrible) backline may be waiting for you.
With some pedalboard rearrangement, high-quality guitars and leads, and some dedicated practice to getting your sound right before you hit the road, you can create an ampless guitar rig that delivers the consistent sound and reliability you need during your live performances.
Now you can load in as much gear as the singer. Which is very little.