Did you know your guitar speakers are 1/3 of your sound? This is just how important your guitar amp speakers are when sculpting your perfect tone, especially when it comes to digital rigs and live amplifier setups
Do you really know how important your guitar amp speakers are in your guitar cabinet? Let's be honest here: when we're choosing amplifiers (most of us at least) we don't REALLY think about the quality of the speaker at first when we're buying a new guitar amp or cabinet. We just want it to sound good, right? Fortunately, the team at Laney Amplification DO think about it.
Whether we're building a digital guitar rig choosing between solid-state vs tube amps or trying to figure out whether we need open-back or closed-back guitar cabinets, there's a lot to think about when buying a new guitar amp.
But did you know guitar speakers actually account for a third of your sound?
Yep. A third!
Yet, in the realm of the guitar world that we love so much, the significance of speakers often goes unnoticed. So today I'm delving into the world of guitar speakers to show you just how important your guitar speakers are, difference between 1×12 and 2×12 cabs, why we choose the speakers we do here at Laney and the unmatched benefits of the Laney LFR speakers when it comes to putting together a digital guitar rig.
The Tone Triangle – How does a speaker contribute to guitar amp tone?
As Simon Fraser-Clark, tone wizard at Laney Amplification calls it, the speaker's contribution to your sound is part of a "tone triangle". This tone triangle is made up of three key ingredients that reside in your amplifier:
Preamp>>Power Amp>> Speakers
The way these elements interact with each other whether you're using an amplifier head with cabinet or combo amplifier creates the unique sound of the amplifier. Take one away and it changes everything. For better or worse… depending on your ears. That's how important your guitar amp speakers are – they're 33.33% of your tone!
The preamp shapes your tone, the power amp amplifies it to a level to drive the speakers and the speakers are where the electrical signal gets converted to sound waves that we can hear. And as different speakers have different tonal characteristics, you get a unique sound depending on what elements you use.
This is why the team at Laney put so much effort into choosing the right speaker (and preamp and power amp) in your guitar amp or cabinet. It's all extremely important.
Difference between 10-inch vs 12-inch guitar speakers
The main difference between 10" guitar cabinet speakers and 12" speakers (aside from the size) is that 10-inch speakers provide a tighter, more focused sound with a punchier midrange and 12" speakers give you more low-end bass and wider midrange frequencies, as well as a "fuller" sound.
1×12" cabs vs 2×12" cabinets – which is better?
When it comes to the main difference between 1×12 vs 2×12 cabinets, or which is better – it's all down to sound dispersion. On a 2×12 speaker cabinet, you're getting more speaker area, so the more sound dispersion you get, and the more "full-bodied" your sound is. The more closed the amplifier cabinet is with a 10" speaker, the tighter the sound. With a 2×12 you get more presence and impact, but with a 1×12 you get a tighter, more precise sound.
Because a 1×12 guitar cabinet offers a more focused sound, you'll probably want it for smaller venues or studio recordings. On the other hand, the 2×12 cabinet, with its larger speaker area, will give you more presence onstage and more impact overall, pushing the air around you a LOT more.
As Simon highlights, the type of stage also plays a role in which cabinet is better.
"A hollow stage brings out more bottom end, while a solid stage makes a 2×12 cabinet more suitable due to its inherent bass richness."
What type of guitarists should use a 2×12 or 1×12 guitar cabinet?
Many renowned guitarists have their preferred cabinet choices. For instance, rock guitarists might lean towards 2×12 or 4×12 cabinets for their fuller sound and thicker bass response, especially in live concerts.
On the other hand, jazz or blues guitarists might prefer the clarity and focus of a 1×12 cabinet, especially in intimate settings or studio recordings.
The choice of cabinet can also vary based on the genre of music. Heavy metal or rock genres might favour the depth and presence of 2×12 and 4×12 cabinets, while genres that require a cleaner sound might lean towards 1×12. But as we always say – there are no rules!
What size speaker is best for guitar?
Either 10" or 12" speakers are "best" for guitar amps as you can retain the most important elements of your frequencies, albeit you'll gain more tightness with 10" but more low end with 12". This is why we use these sizes at Laney – they give you the full spectrum that guitarists need in a guitar amp!
The benefits of 10 Inch Guitar Speakers
10-inch speakers, found in the likes of our Laney CUB series amps deliver a tighter and more focused sound which is ideal in a smaller-style amplifier. The tighter mid-range and focus make these amplifiers and their speakers perfect for styles that require precision and clarity, such as jazz or country. Or if you're playing smaller gigs and you need less sound dispersion or just need a good tube amp for home use!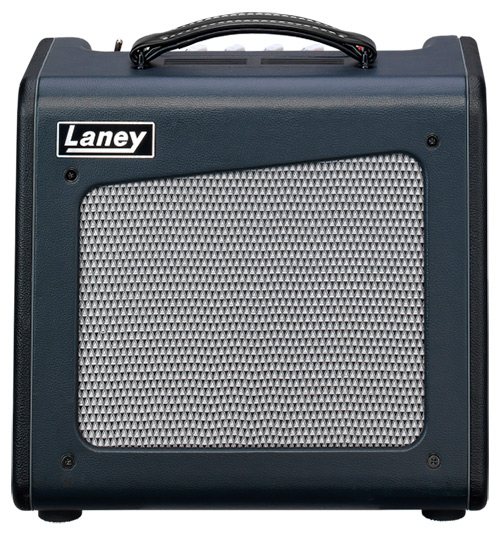 Above: The Laney CUB-SUPER10 is a boutique style ALL-TUBE amp with 10″ custom speaker.
Benefits of 12 Inch Guitar Speakers
When it comes to guitar amps, 12-inch speakers are the most common size you'll find. The main benefits of a 12" speaker are that they provide the most balanced sound with good low-end and midrange frequencies, making them suitable for a wide range of music genres from blues to rock to metal – they're your go-to size of speakers. What's great about 12-inch guitar cab speakers is their versatility – they can handle both clean and distorted sounds easily and will be able to handle the sound and pressure of a cranked tube amp or solid-state amplifier at high volumes with ease.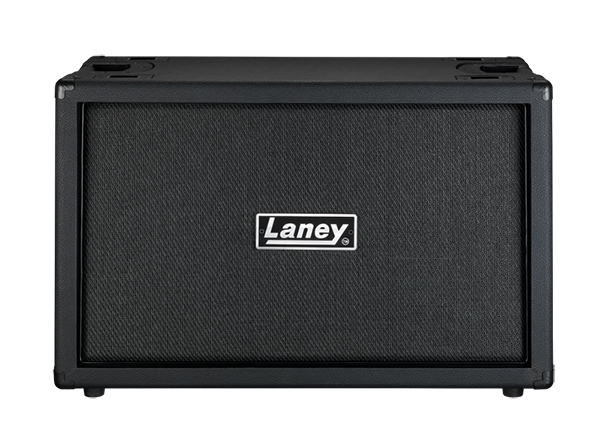 Above: The Laney GS212IE 2×12 Cabinet features 2 HH 12" drivers specifically designed by HH for Laney.
Laney designs amps based on speakers
Here at Laney, we take the tone triangle extremely seriously. We have fun, but it's a serious job getting the RIGHT sound!
Fortunately, we have an entire lab dedicated to speakers!
"Each element of the tone triangle has inherent tonal qualities," says Simon. "When we're creating a new amp, or testing out different combinations, we can try a Celestion Vintage 30, or any number of speakers and test it within each amp combination. We have a sound wall, with every speaker you can imagine set up, so we can run your amplifier through each speaker and say we like "this", but we wish it had more of "that". To ensure the sound adheres to this equilateral tone triangle, we design every speaker to accentuate the exact frequencies within that setup – it's about having the absolute best speaker for the tonal characteristics of the amplifier. Even down to the bead of glue placement – everything makes a difference."
It's that attention to detail that makes Laney one of the world's best guitar amp brands – we bring these intricacies and features to the design of every amplifier and guitar and bass cabinet.
So how does Laney choose speakers for their amplifiers and cabinets?
We build the amps around the speakers. And if we can't find one we like, we design our own custom-voiced drivers. That's how dedicated we are to the perfect tone and that's how important your guitar amp speakers are to us.
"We bring the best speaker possible for the amp design and work closely with the speaker designs to ensure our amplifiers are getting the best sound possible. Whether we're using a Celestion 30 or we're designing our own custom drivers, the speaker you get is the best possible speaker for the sound of that amplifier."
Whether you choose the Laney Supergroup LA412 with 4 x 12" Celestion G12H loaded speakers, Laney LA212 with 2 x Celestion Greenback G12M-25 speakers for that 60's and early 70's sound made famous by Black Sabbath or the Celestion 30 speakers in the Laney Lionheart L20T-212 you're getting the absolute best sound humanly possible from your cabinet.
Our custom-designed speakers such as the Laney GS Series guitar cabinets which include a range of HH drivers have also been produced to provide players of all levels with a lovely warm low-end, a creamy rich vocal mid-range and a sparkling, beautifully detailed top-end suitable for any guitarist who values quality tone.
For the metal heads, we've created a range of Laney IRONHEART cabinets, suitable for the IRF-LEADTOP and IRF-DUALTOP amplifiers, including the GS212FE cabinet which is loaded with a pair of custom-designed HH 1260 drivers delivering 60 Watts RMS @ 8 Ohms.
Every speaker we place in our cabinets and amplifiers has been hand-selected by our team based on their unique qualities and how they interact with the preamp and power amp we're using. And our FRFR speakers, the Laney LFR speaker cabinets are no different. We've talked about the benefits and why the Laney LFR cabinets are the best FRFR cabinets for digital guitar rigs but the main point comes down to the fact that we have created speakers that can provide flat response, or breathe life into your onstage sound when you need it! With REAL feedback!
Digital guitar rigs and the importance of good guitar cabinet speakers
When you want your digital guitar rig to sound its best, you need a cabinet that is more than just a re-voiced PA speaker. You want something that can provide the flat response you need when you're using cab sims or IR or in our case, a cab that gives you that real amp "life" that we want as guitarists.
There are many key benefits to digital modeling guitar rigs vs analog  but in a nutshell, they can help you transcend genres and get the same sound onstage, no matter what the venue is like. the LANEY LFR speakers are the best choice for guitarists who use digital modelling rigs and profilers.
But why?
The sound of a profiler or digital guitar rig is essentially the sound of an amp on record. If the aim is to replicate the authentic sound of a record, the Laney LFR speakers are your greatest asset as they can provide the flat response when you need it, but they also have speaker cab emulations when you want to create your own sound and be a little less "sterile".
As Simon aptly put it, "If you want something to sound like a record – use LFR speakers and a digital guitar rig. But we found guitarists that use digital guitar rigs who want that record sound are still missing the interaction between sound source onstage with regular FRFR cabinets".
Of course, he's right – we want some life back into our playing, even when using digital guitar rigs!
"Guitar players want a live amp because of how you interact with it. And they're genuinely missing the interaction between them and the sound source onstage when using digital guitar rigs. The Laney LFR cabinets provide natural feedback. The Laney LFR FRFR cabinets bring back control as you can set it to flat, or choose the 1×12 or 4×12 setting and interact with it the way you would an analog amp – you get natural feedback from our LFR cabinets when you move closer!"
Best of all you can enjoy the sound and real feel of a cabinet pushing air around onstage, but still send the feed to the front of house engineer, completely free of your LFR cab sound.
This is part of the reason Guthrie Govan chooses to play the Laney LFR speakers – in his own words: "Everyone is loving the sound, and I'm getting more of that 'real cab' experience than I've ever had before with a digital modeller. Finally: proper feedback!"
The Laney LFR Advantage
One of the key reasons the Laney LFR speakers are so important to your sound is the fact that they've been built to accentuate the features of a guitar cabinet that guitarists find desirable. The way the wood interacts with your amp, the closed-back design and the multiple settings that help you get the most out of your digital guitar rig. The cabinet was built around the driver – that's how important your guitar amp speakers are in the LFR cabinets, especially.
The LFR is not a repurposed PA cabinet where other options are. Competitors have just repurposed PA cabinets with no real thought about the interaction between the guitarist and cabinet. We made sure that the sympathetic resonance between the player and amplifier was there. The signal you hear onstage can be as different as you want it to be, while your front-of-house engineer gets the sound they need, directly from your modeller.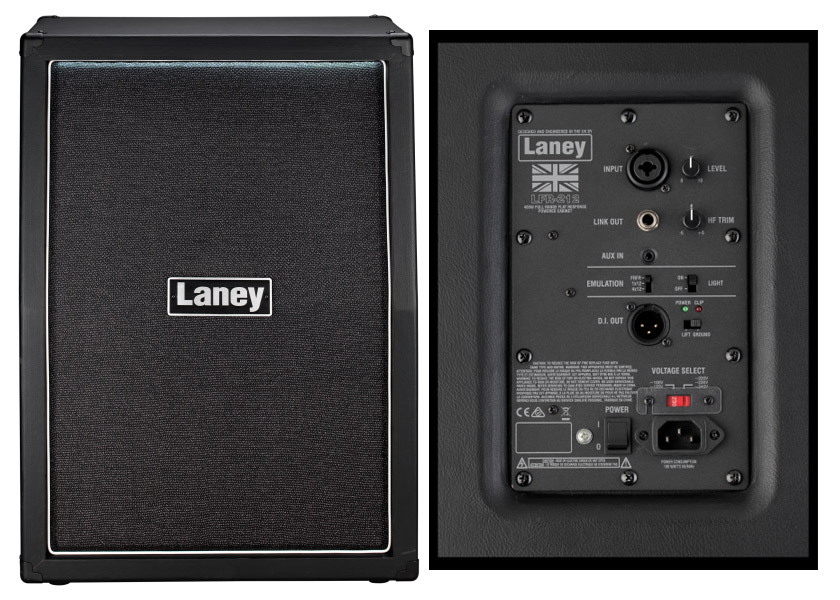 The Laney LFR-212 cabinet is the best guitar cabinet for digital guitar rigs.
The 1×12 vs 4×12 settings help with achieving the classic qualities of each style of amp cabinet but you get the sound dispersion of a 2×12 to ensure you get the power and bass response of a 4×12 with the mid-range frequencies of a 2×12. It's the perfect combination!
Playing a hollow stage with more bottom end? Use the 1×12 setting to retain the tightness.
Playing a solid stage? The 4×12 setting is more suitable, providing more bass and power where you need it!
In addition, the Trim control on the LFR speakers is perfect for adjusting your cabinet depending on the sound of the room. Whether it's a super bright or super dark room, adjust the cabinet's sound in relation to your room and use the EQ to cool the top-end or low-end frequencies that might be making you sound too harsh, or too boomy.
Again, just a testament to how guitar cabinets are so important to your sound – we've thought of as many different elements that you can sculpt to ensure you get the most out of your guitar cabinet whether you're fully digital or using a pedalboard amp like the Laney Ironheart LOUDPEDAL or an ampless guitar rig.
The LFR cabinets bridge the gap between digital and analog amplifiers, bringing back the much-needed control.
Final Thoughts on how important your guitar amp speakers are
Speakers, often overlooked, play a monumental role in shaping a guitar's sound. As highlighted by Simon and exemplified by the Laney LFR range, investing in quality speakers can truly amplify a guitarist's sound and creativity, giving you the perfect feel onstage when you need it. A good speaker cab can mean the difference between enjoying playing an amplifier or hating it – that's how important your guitar amp speakers are.
Invest wisely!
View a full range of guitar speakers cabinets and amplifiers at Laney Amplification.