Touring with just a pedalboard just got WAY easier with the IRONHEART FOUNDRY SERIES LOUDPEDAL release – here are 5 reasons you need it (plus secret tone settings)
We are super-stoked to be launching the new Ironheart Foundry Series Loudpedal, a true 60-watt Ironheart amplifier packaged inside a pedalboard-friendly twin-channel guitar pedal.
This pedal just made going ampless on guitar way easier.
Why is the Ironheart Foundry Series Loudpedal so good?
In a nutshell, the Ironheart Foundry Series Loudpedal is a 60-watt amp in a box, complete with the same tonal options you'll find on our Ironheart amps. You get a footswitchable boost function, rhythm and lead switch, line out for direct-in guitar playing and connections for your in-ear monitors.
It allows you the same functionality and sound quality as an Ironheart amp, in pedalboard format!
This tiny unit, about the size of two regular guitar pedals placed together, is essentially a guitarist's best friend – specifically the gigging guitarist who is sick of dragging around a big amp with them, wants to tour internationally and use UK pedalboards when touring in the USA or abroad and those who want the same sound at EVERY gig without worrying about backline.
It's designed to be the tone engine of a flexible pedalboard setup. A true 60 Watt IRONHEART amplifier, flat on the floor.
The Ironheart Foundry Series Loudpedal enables you to go ampless on guitar, connect directly to your DAW for that unmistakable high-gain Ironheart tone in your home studio without a mic and lets you gig without a cabinet if you want to. If you do want to gig with a cabinet, we have created 2 x custom cabinets specifically for the pedal – the IRF Loudrig 112 and the IRF Loudrig 212.
It's a brand new series, aimed at making the touring musicians' life a LOT easier, without ever compromising on tone.
" The IRONHEART LOUDPEDAL is the first product release in Laney's new IRONHEART FOUNDRY series.

Forged deep in the Black Country, IRONHEART was first released in 2011 with the powerful IRT120H & IRT60H heads. These amps made an immediate impact, delivering the aggressive and dynamic tube tone that quickly became the choice for bands like Killswitch Engage, The Prodigy and Good Charlotte. Taking the essence of the now critically acclaimed IRONHEART sound, the IRONHEART FOUNDRY series serves this up in compact, portable solutions suitable for today's gigging and touring players." – James Laney – CEO of Laney amplification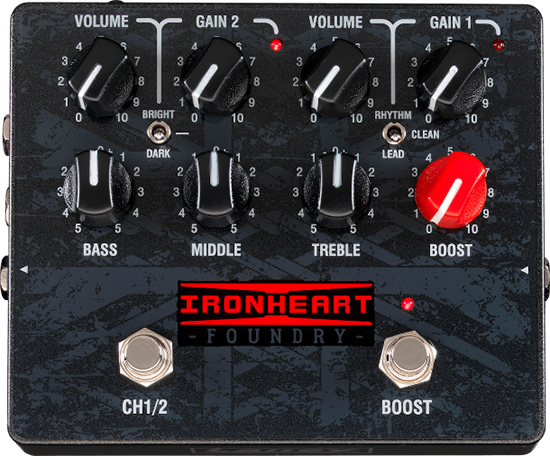 Who's the Ironheart Loudpedal for?
The Ironheart Foundry Series Loudpedal is perfect for guitarists of all genres but has been designed to appeal to heavy metal/high gain Laney Ironheart lovers who want a compact and powerful amp-free set-up for their live rig that doesn't compromise on amp sound. Whether you're a touring professional, a gigging musician, or a bedroom player, the Loudpedal's incredible tone and versatile connectivity will make it an essential part of a recording, live or practice guitar setup.
If you want consistent sound in any venue, on any stage, and the ability to gig with just a pedalboard, without worrying about what backline the venue offers, this is perfect for you.
I also got some incredible rock sounds from it too – check the Loudpedal secret settings I found at the bottom of the page (secret settings).
How it can help you set up a completely ampless guitar rig
The Loudpedal's unique design allows it to be used directly with a guitar amp cabinet, eliminating the need for a separate amplifier. It can also be connected straight to a PA system for ampless guitar rigs or used backstage as a practice/warm-up device.
Plus, with built-in headphones and aux inputs, silent jamming (in high quality) has never been easier. It can even function as a recording interface and allows you to connect with in-ear monitors via studio-quality DI when you want a completely silent stage.
With the rise of lower wattage amps over higher wattage amps, bass players going direct-in and guitar rigs getting smaller to combat venue sound constraints, this has arrived just in time as guitarists are reducing their live rig, especially when touring overseas!
I spoke to the tone wizard and brains behind the pedal Simon Fraser-Clark about how it was created for the touring musicians out here trying to get the accurate tone they've spent years sculpting regardless of the stage they were playing.
"Going ampless is sometimes out of necessity and sometimes out of choice. When you're touring America you often have to rely on your pedalboard to get your signature sound, as you can take them on the flight with you but you can't transport your amplifiers to the gigs or festivals you're playing.

Musicians were relying on backline at venues to be up to scratch, which wasn't always the case. You might be accustomed to your high-gain Ironheart sound only to turn up to the venue and find they have a twin amp – which stylistically isn't a good fit for you.

You can't rely on the venue backline."
Simon and the team started distilling everything they knew about big solid-state amps into a little box that you could drop onto a pedalboard, giving you the whole of your guitar tone on the pedalboard without needing to rely on backline equipment.
The result was the 2 channel Loudpedal amp, designed to save musicians the headache of bad backline and provide a consistent tone no matter the stage. From Download festival to the country bars of Nashville. You can plug in and get the same high quality sound you're sued to with the Laney Loudpedal
"You don't need to rely on backline equipment with the Laney Ironheart Loudpedal; with the rise of silent stages like those in Nashville, having a unit on your pedalboard that operates in three distinctly different areas is invaluable – as a boost pedal with backline, driving a passive cabinet with a hired cab, or running out to in-ears or front of house on a silent stage.
The ethos is signature sound wherever you want."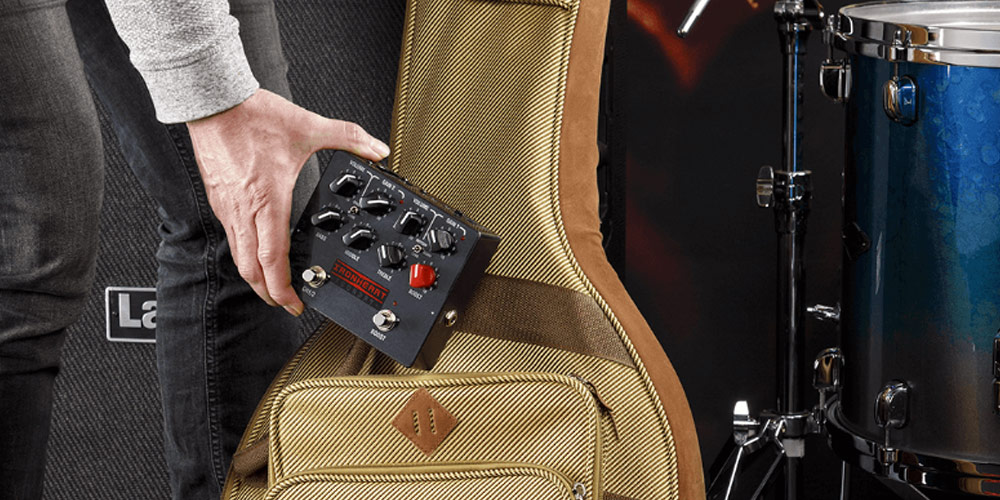 Why heavy metal and rock guitarists will love the Laney Ironheart Loudpedal
If you already love the sound of the Laney Ironheart amps, or you want to get the same amplifier sound as Laney users like Killswitch Engage, The Prodigy and Good Charlotte but don't need another amplifier, the Laney Ironheart Loudpedal can get you there – without taking up too much room on your board.
You have 2 independent channels and can create a wide range of tones, from clean and crisp to heavy and distorted.
Channel 1 has selectable Clean, Rhythm and Lead gain modes that capture that Ironheart bite and aggression.
Channel 2 has selectable Bright, Natural, and Dark voicings, giving you even more control over your tone.
However, it's the foot-switchable Boost that is the killer feature here! The LOUDPEDAL's foot-switchable boost, allows you to instantly go from rhythm to lead without having to adjust your settings and can go from heavy to bone-shattering distortion at the press of a switch.
Metal guitarists especially are always looking for ways to improve their tone and make their rig more versatile, heavier and easier to sculpt. That's where the Ironheart Foundry Series Loudpedal comes in. This pedal is designed to be the tone engine of a flexible pedal board setup, giving you the power and versatility of a true 60 Watt Ironheart amplifier in a compact, portable package.
Can other genres use the Laney Ironheart Loudpedal use it?
Yes!
Although it's aimed at the heavier world, the Laney Ironheart Loudpedal has bucket loads of clean and tonnes of headroom for the jazz, country and fusion players out there!
"Our IRONHEART series has the most headroom, so this pedal is not just for the metal head. You can get undistorted, superior crystal cleans out of it. If you're a guitarist with a twin or bassman style clean sound, you can get the same cleans, then kick into a boost when you need it!" – Simon
7 Best Features of the Ironheart Foundry Series Loudpedal Guitarists Will Love
1. DI Out for PA/FOH, In-ear monitoring and home recording
The key reason you need this pedal is to slim down your live rig. The Laney Ironheart Loudpedal has a studio quality DI out with ground link and speaker emulation, so you can go direct-in to your PA or Front of House on any stage, any festival, anywhere in the world. You no longer need an amp to get a professional-level sound.
Best of all, you can connect the pedal to your DAW and get the Ironheart sound without ever mic-ing up an amplifier again!
Seriously this thing just makes life easier for guitarists!
2. Two Independent Channels
The Loudpedal boasts two separate channels, giving you a wide range of tonal options and the ability to move into higher echelons of distortion while remaining pleasing to the ear.
Channel 1 features selectable Clean/Rhythm/Lead gain modes, while Channel 2 offers selectable Bright, Natural, and Dark voicings.
You can set each channel to your particular sonic needs as there are different levels of gain saturation available.
For example, you can set channel 1 as a smooth, rhythm tone with subtle gain, then hit the channel change into a Dark, riff-tastic distortion-filled monster. THEN hit the boost for those louder chorus sections that need an extra push!
As you increase the gain, you change the character of the gain.
Use it as a 2 channel distortion pedal with boost, or swap out your live amplifier for a smaller travel footprint.
3. Footswitchable Boost
A lot of times when we're using a high-gain amplifier, it can seem like we have nowhere else to go but MORE distorted. The Laney Ironheart Loudpedal changes that by adding a Boost feature that allows you to enjoy searing high-gain lead tones that stand out from the mix.
4. 3-Band Passive EQ
The Laney Ironheart Loudpedal amplifier pedal gives you the same control as an Ironheart amp. You have a 3-band passive EQ for incredible control over your tone including Bass, Middle and Treble that ACTUALLY make a difference to your sound. Fortunately, you won't have to wonder whether to choose a solid-state or tube amp anymore.
"It's a solid-state unit but the tonal quality is just as good as a tube amp. We understand how tube amps sound and feel, and we've been able to shoehorn that 50 years of experience into making something that genuinely sounds really good. It's 60 watts – sits on your pedal board, and works just like your amp. It'll take pedals in front of the effects loop just like an amp and will give you everything from super crystal cleans to full-on chugs.

It's a very nice tone solution for ampless rigs, but can act as a distortion pedal too!" – Simon
5. High-Quality Speaker Emulated XL Out
The Loudpedal comes equipped with a DI XL out with switchable analog speaker emulation, ensuring your direct-to-PA sound is as close to a miked-up cabinet as possible. You get the consistent, gig and studio-worthy sound from a pedal, complete with the feel and response of a live amplifier.
6. Transformer Isolated Effects Loop
"We made sure you could connect your favourite effects – just like your amp." – Simon
Thanks to the Loudpedal's transformer-isolated, high-quality effects loop, your pedal can achieve the same sounds as you would when you hook your pedals into the effects loop, which is especially useful if you use different types of delay pedals.
7. Built-in Headphone Output and Aux In
Whether you're practising backstage or jamming silently at home, the Loudpedal's headphone output and aux input make it the perfect companion for rehearsing those hard-to-learn riffs in silence.
In conclusion, the Ironheart Foundry Series Loudpedal is a powerful and versatile tone engine for musicians who want a smaller rig, without sacrificing tone. You can gig and tour with JUST your pedal board setup. With its 2 independent channels, selectable voicings, foot-switchable boost, and pro-level features, you'll never have to worry about poor-quality sound. Ever again.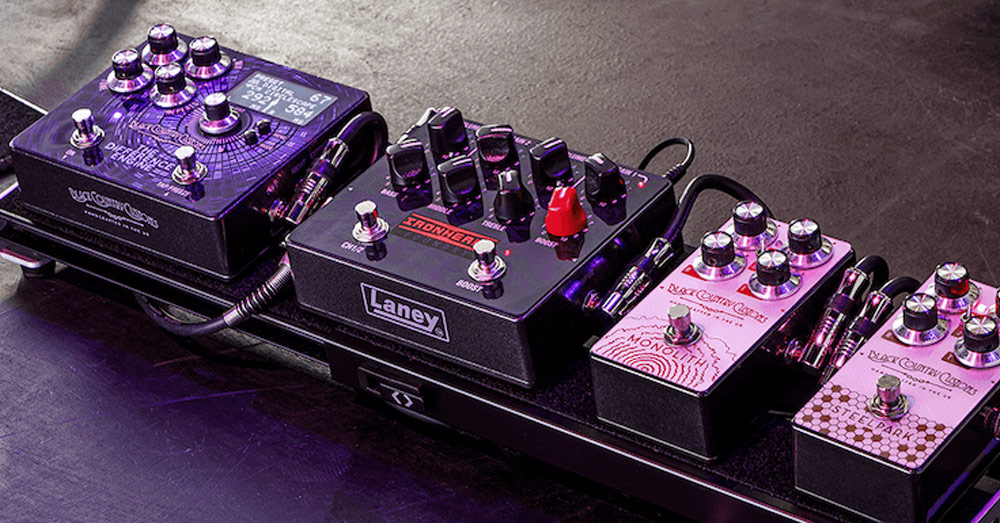 Pic: You can tour with JUST a pedalboard thanks to the Ironheart loudpedal!
Secret Settings and Tone Tips for the Laney Ironheart Loudpedal
I've been playing around with the pedal and discovered some secret settings that live musicians will absolutely love! I also tapped Simon for some of his favourite settings and tone tips.
1. An Awesome Ryhthm Boost
Simon's secret setting #1 – how to get a nice kick-in for rhythm guitar, without too much distortion.
Channel 1
Set VOL all way up on Channel 1
Set GAIN on 1 or 1/2 for compression.
Channel 2
Then on Channel 2 set the VOL to be comparable.
Set GAIN at 2 o'clock
You get a super-cool kick-in for rhythm guitar – ideal for classic rock players.
Then just set your BOOST at 6,7or 8 and get a fuller, fatter lead tone on either channel. The Boost works on both settings so you can keep the boost on so you don't lose the dynamic of the song after the 2nd chorus.
"With this setting, the pedal cleans up really well. The Loudpedal responds well to the pickup or volume of your guitar. It talks with your guitar and is really pleasing to play." – Simon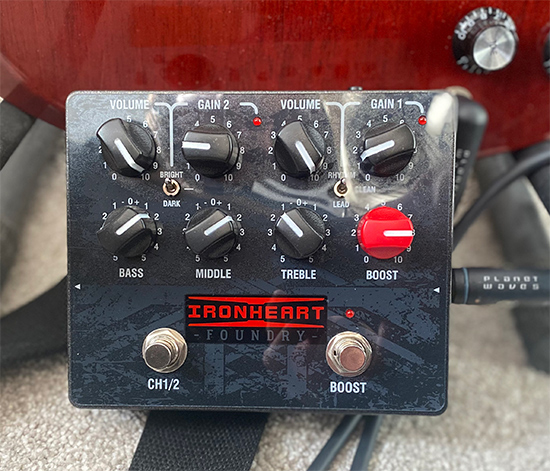 Pic: Simon's secret rhythm boost settings for the Laney Ironheart Loudpedal
2. Subtle Overdrive
Lee Glynn's secret setting #1 – a subtle overdrive.
Yes, the pedal is designed to be used for high-gain settings, but you can dial it back and get a subtle yet noticeable overdrive sound. I found this setting was like using 2 x different amps and got some lovely 90s/00s alternative sounds from it.
Channel 1
Set channel 1 VOL at 3
Set GAIN at 2
Set the switch to Rhythm
All EQ at 1 o'clock
Channel 2
Set Channel 2 VOL at 3-4
Set GAIN at 2-3
Set Switch to DARK
What you get here is a classic rock-sounding overdrive with just enough difference for chorus/middle eight and verse sections. I found switching between channels resulted in a lush overdrive when I needed it and the BOOST was there for the final chorus sounds. This showcases the diverse sounds within the pedal!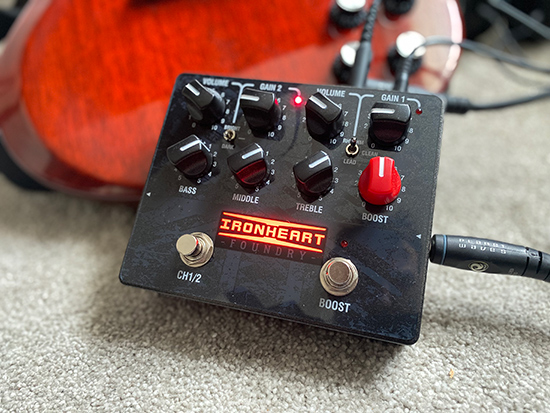 Pic: Overdrive settings for the Laney Ironheart Loudpedal
3. Desert Rock Fuzz
I found I was able to replicate the sound of the "Era Vulgaris" album by Queens of The Stone Age and Wolfmother-style tones on the pedal.  Fuzzy, yet intricate sonic qualities that really bring riffs out. It's part stoner rock, part vintage fuzz – all fun!
Channel 1
Set VOL to 4
Set GAIN to 2
Set the switch to LEAD
Channel 2
Set VOL to 4
Set GAIN to 6
Set Switch to BRIGHT
Set EQ
BASS 2
MIDDLE -5
TREBLE 5
BOOST 6-7
What I got was a highly musical riff-based sound that toed the line between vintage fuzz and modern stoner sounds. It was incredibly responsive and at no point became muddy. Even when I engaged the boost! Try it out!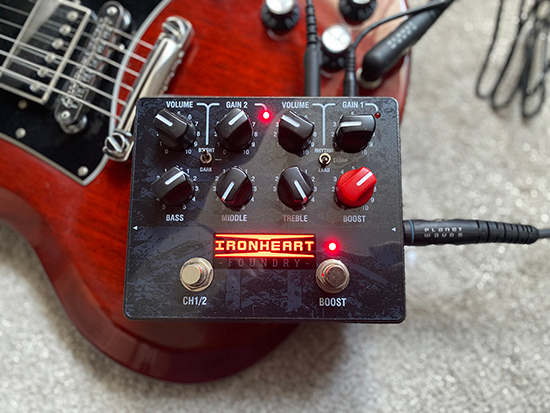 Pic: Fuzz / Desert Rock/ Queens of the Stone Age settings for the Laney Ironheart Loudpedal
Let us know in the comments below what incredible sounds you can create with the Laney Loudpedal amplifier-in-a-guitar pedal!
Learn more about the Ironheart Foundry Series Loudpedal here.