This is why Gigging, Practicing, and Recording Guitarists Need the IRONHEART Foundry IRF-LEADTOP and IRF-DUALTOP Amps
A good desktop amp doesn't have to be shackled to a desktop, well at least WE think so anyway. You've sculpted the perfect sound at home, so you should be able to take THAT sound with you anywhere right?
With the Laney Foundry DUALTOP & LEADTOP Amps you can.
One of the main benefits of the IRONHEART Foundry IRF-LEADTOP and IRF-DUALTOP Amps is that you can do just that. Hey;e desktop amps that you can ACTUALLY gig with! We've made sure the Laney Ironheart Foundry IRF-LEADTOP and IRF-DUALTOP amplifiers are ready for home, practice and gigging complete with 60 watts of pure tube-inspired power when you need it. These are NOT your usual desktop amps, but fully-fledged gigging amps designed for heavy metal guitarists and home recording enthusiasts who want an amp they can take with them anywhere and get a consistent sound.
Here's 7 reasons why you'll love them and the major benefits of the Laney Foundry DUALTOP & LEADTOP Amps that set them apart from other desktop amplifiers.
Difference between Laney Foundry DUALTOP & LEADTOP Amp
Although both amp heads share a 60-watt maximum power output – and while they are effectively siblings – there are a few key specs that set the two desktop amps, or we can call them portable amps, apart which guitarists will want to know about.
Starting small, the IRF-LEADTOP is a single-channel head with onboard EQ controls for Bass, Middle and Treble, independent gain and volume controls as well as a red Boost parameter for setting the desired amount of additional switchable pre-boost.
That boost can be engaged via the front-mounted toggle switch (or a switcher pedal via the rear Remote output), with a secondary switch serving to move between Clean and Lead modes. A final toggle for navigating Bright, Natural and Dark lead voices caps off the control panel so you have a tonne of different sonic options.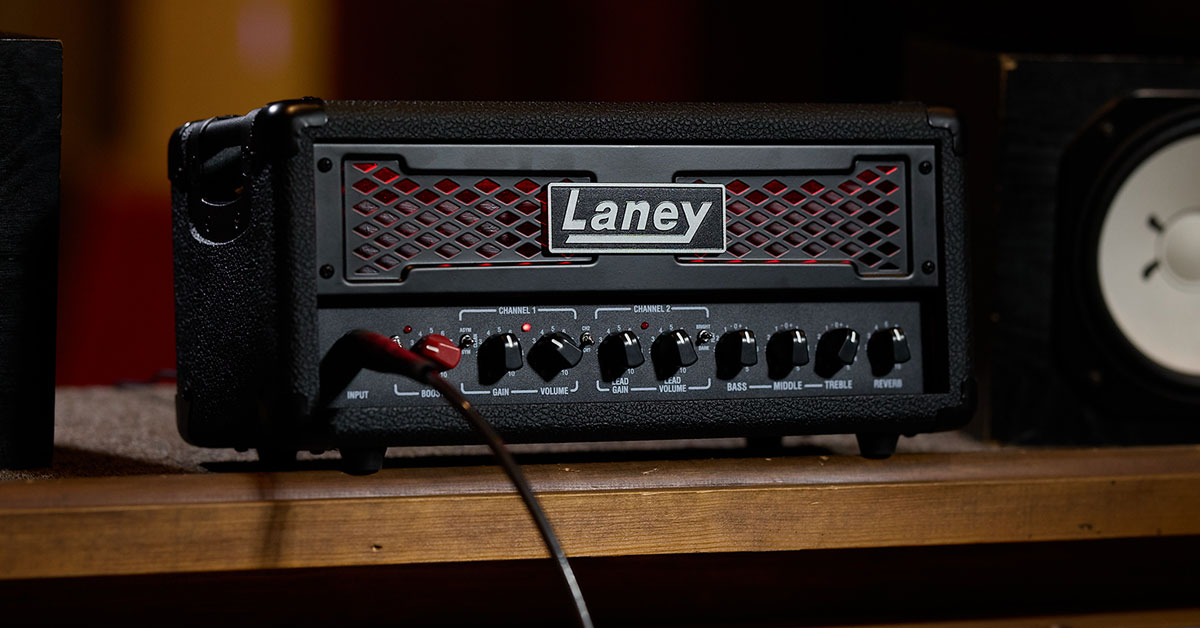 Main difference between Laney IRF LEADTOP and DUALTOP
The main difference between the Laney IRF-LEADTOP and IRF-DUALTOP is that the DUALTOP has two channels and the LEADTOP has one. The Laney IRONHEART IRF-DUALTOP offers a cabinet-emulated headphone output as well, but ALSO provides IR Cab simulation via DI out so you can effectively create an ampless guitar rig (or at very least slimmed down rig). This desktop amp actually provides 60 watts, too, but you have 2 independent channels, each with their own Gain and Volume parameters and additional tone sculpting such as wave clipping and voice switching. Plus, the IRONHEART IRF-DUALTOP actually includes our built-in studio quality spring line reverb effect based on our award-winning Secret Path pedal built-in, so you can really bring the amp to life.
Both are great touring amps, especially when coupled with the matching GS212FE cabinet which features two HH designed HH1260 12-inch drivers to perfectly complement the DUALTOP's performance. Because we all know – cabinets are VERY important to your guitar sound!
Let's dig in a bit more!
Key benefits of the Laney Foundry DUALTOP & LEADTOP Amps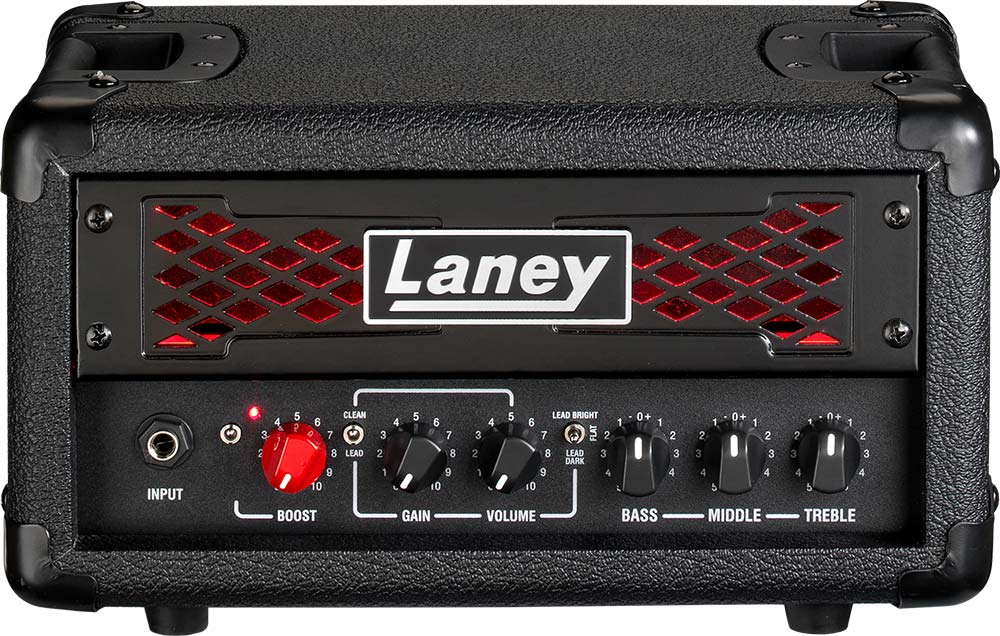 1. Huge Power in a Desktop amp
Both the IRONHEART LEADTOP and IRF-DUALTOP are part of the IRONHEART FOUNDRY series, which delivers the sheer power and dynamism of the IRONHEART tube amps in an ultra-compact desktop amp-style form. This makes them perfect for those who need portability without compromising on power, especially touring musicians and those who want the same tone at home as they do onstage.
2. Versatile tones
Both of these amplifiers are incredibly versatile. The LEADTOP can be run in either Clean or Lead modes, while the DUALTOP offers twin channels with multiple wave form and voice settings which can be set to either neutral, bright or dark. This ensures that guitarists of all genres, not just metal have somewhere to go tonally.
3.Foot Switchable Boost and EQ Settings
Both amplifiers come with foot switchable boosts which means you can drive the amp harder when need, effectively slimming down your pedalboard. The LEADTOP features a foot switchable pre-boost, and the DUALTOP has a foot-switchable Boost and channel changer – you just need a multi-footswitch to activate it. Additionally, they come with EQ settings, with the LEADTOP offering a triple-mode EQ voicings switch and a 3-band passive tone stack, and the DUALTOP providing a 3-band passive EQ.
4. Recording and Practice Features
Both amplifiers are packed with features beneficial for recording and practice scenarios that we made sure are actually useful to you. They come with a cabinet-emulated headphone out for silent practice, an aux-in for backing tracks, and a high-quality effects loop. The FX SEND on the LEADTOP also doubles as a line out, allowing for easy recording or connection to a PA. However, for those who loved the sound of the Foundry LOUDPEDAL  and wanted to get it in a more "amp" looking format, you'll love the fact that the DUALTOP comes with a switchable high-quality IR loaded speaker emulated XLR DI out, making it perfect for recording artists who want to go straight into a DAW or directly into a PA system!
The LOUDPEDAL has a tonne of useful features for gigging guitarists. Worth reading if you're trying to slim down your live set up.
5. VARI WATT Output
Not everyone can crank an amp at 60 watts at home, or at a gig. This is why we've made sure both the LEADTOP and DUALTOP offer a VARI WATT output, allowing for output adjustments from 60 watts to <1 watts. This means that guitarists can achieve the perfect volume for any setting, from practising at home to performing live while maintaining the heavy drive we love, just at lower volumes.
6. Matching Cabinets
Of course, you can gig with just the amp heads and your pedalboard if you want to, but for those who want a full setup for stage and practice, you'll be happy to know that both the LEADTOP and DUALTOP can be paired with matching cabinets or sold as a package. The LEADTOP can be packaged with the custom designed GS112FE cabinet featuring an HH designed 12-inch driver, while the DUALTOP can be paired with the custom GS212FE cabinet, which houses two HH1260 12-inch drivers.
Which Amp is Better for Different Scenarios?
While both amps are perfect for live, studio and home, the LEADTOP is slightly better for home use due to its desktop size, but can be used in all eventualities, whereas the DUALTOP is probably better for live use if you want the look of a larger amp, with DI out capabilities that can feed to the PA system.
LEADTOP or DUALTOP for Live?
Both amplifiers are suitable for live performances due to their powerful outputs and versatility. However, the DUALTOP, with its twin channels and VARI WATT output, might offer a slight edge for gigging guitarists who require more flexibility on stage.
LEADTOP or DUALTOP for Studio?
The DUALTOP is a top choice for studio recording, especially with its high-quality IR loaded speaker emulated XLR DI out, ensuring that recording artists capture the best possible sound. However if you have a smaller setup, the direct out can be connected to your DAW and sit comfortably on your desk. The DUALTOP offers more Cabsims.
LEADTOP or DUALTOP for Home?
The LEADTOP is perfect for home use, especially for practising guitarists – of course both are perfect for home use – it's one of the major benefits of the Laney Foundry DUALTOP & LEADTOP amp! But the LEADTOP in particular, due to its compact size, combined with features like the cabinet-emulated headphone out and aux in for backing tracks, make it a practical choice for home settings. However, the DUALTOP's VARI WATT output also makes it a strong contender for home use. When you've finished your tour playing your amp at the full 60 watts, you can knock teh amp down to <1 watt and enjoy the sound of the cranked, high gain amp at lower volumes. Both are great for home use, it just depends on how big your desk is!
When it comes down to the wire, both the IRONHEART Foundry IRF-LEADTOP and IRF-DUALTOP offer a range of features that make them suitable for various scenarios. Whether you're a gigging guitarist, practising at home, or a recording artist, there are loads of benefits of the Laney Foundry DUALTOP and LEADTOP Amps that guitarists of all levels will love.
Check out the full Laney IRONHEART Amplifier series today.