We show you 5 reasons why you need the Laney Digbeth Bass Amp series in your set-up, if you're serious about getting the best sound possible in ANY environment
The well respected Laney Digbeth series of bass amps, cabinets and preamp pedals were designed to support bass players in any environment, providing incredibly versatile tonal options to suit all genres. They have quickly become the favourite bass amp of pro musicians across the globe, designed to withstand the heavy schedules of touring internationally, rehearsals and recording scenarios, giving bass players the option of playing and recording with or without cabinets.
Just check out our artists' section to see who's using these awesome bass amps and preamp pedals where you'll find the likes of Aaran McKenzie – While She Sleeps, Bob Hardy – Franz Ferdinand and many more Digbeth artists.
Features on the bass amps like the 2 blendable channels with effective tube emulation, range of tonal options and the incredibly useful tilt feature, not to mention the ground lift were all designed to make bass players' lives easier. The custom made SEE SAW EQ control alone makes it an extremely useful bass amp for touring musicians who are sick of losing the bottom end on hollow stages or session musicians in need of that extra high-end punch to push through the mix.
Best of all, these amps were designed to cater to mid-level budgets, providing world-class playability and functionality at a totally affordable price point.
With so many features and incredible tonal options at your disposal, we thought we'd provide a closer look at the Digbeth amp selection and show you 5 reasons why you need to try the Laney Digbeth series if you're serious about your sound.
We'll start with a round-up of what's in the Laney Digbeth series.
What's included in the Laney Digbeth Series?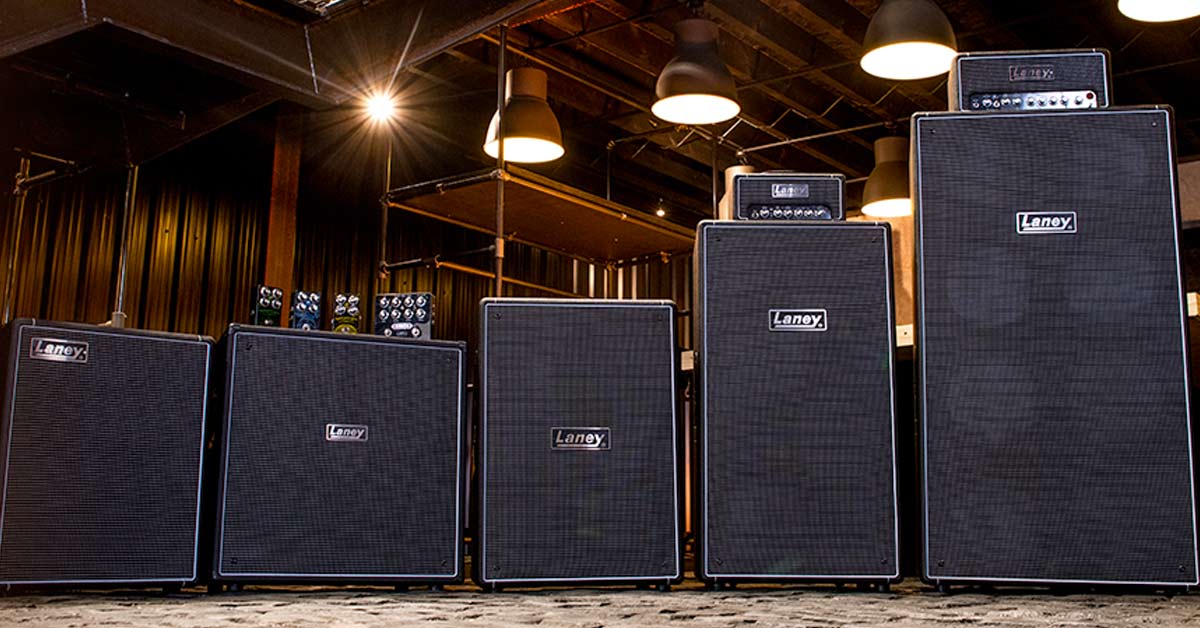 With 2 bass heads, 1 combo bass amp, 4 cabinets and a bass preamp to choose from, you're set for all eventualities, whether you need a bass amp to tour America with, play smaller stages with a portable/silent bass amp setup, hit the festivals or practice at home with headphones on, Laney Digbeth has got you covered.
Laney Digbeth Bass Amps – What's The Difference Between The Two Bass Amplifier Heads And Combo
The Laney Digbeth series includes two extremely powerful bass amplifier heads that will suit both touring and recording musicians. Straight out of the box you have two distinct channels to isolate or blend; the FET channel offers that solid-state headroom and cleanliness at high volumes we need, whilst the TUBE emulation provides us with all the grit and dirt as well as dynamic response we've come to love from tube amps – thankfully without the added physical weight or unreliable nature of glass tubes!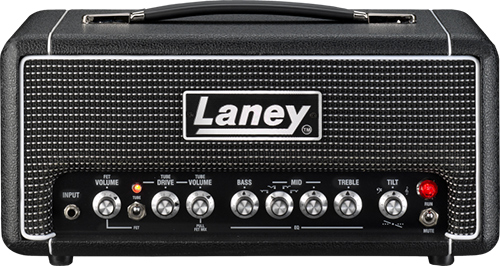 The Laney DB500H (above) provides additional tonal sculpting via an extended EQ control with an additional Mids section and 500 watts of power, whereas the Laney DB200H (below) keeps it simple with a smaller EQ section and 200 watts. Both of which include the extremely useful Tilt control (we'll get to that further down below) as well as switchable/blendable FET/TUBE sounds.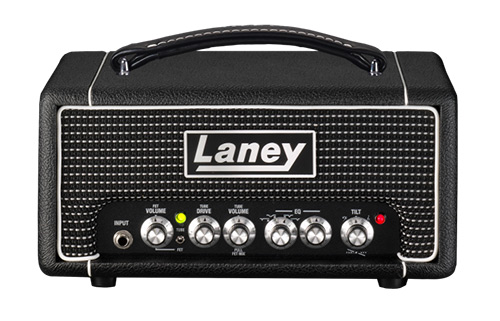 The Digbeth DB200-210 combo (below) serves up all the tonal options of the 200-watt head, but adds 2 x 10″ HH Blue label woofers which have been specifically tuned for this series, providing all the sonic depth, clarity and boom you need to either cut through the mix or completely dominate it when that bass solo kicks in!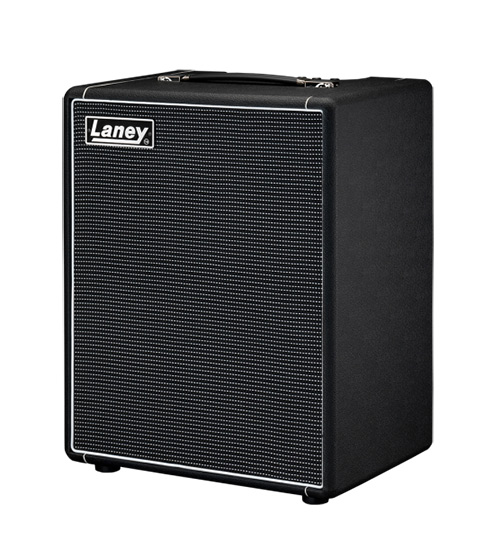 Laney Digbeth Bass cabinets – What's the difference between the Four Laney Digbeth Cabinets ?
The Laney Digbeth series includes four bass cabinets designed to cater to all environments.
The Laney DBV810-4 is a powerhouse of sound offering up 1200 watts of power 8 X 10" HH Black Label Ceramic Drivers – you're covered for the festivals and Glastonbury headline gigs with this one.
The Laney Digbeth DBV410-4 is Loaded with 4×10" vintage-voiced HH Black Label series ceramic drivers set in a straight line – which is extremely rare to see, but is incredibly useful for hearing yourself on stage and really feeling the air being pushed around. If you're in a loud band, get this one!
Again, the Laney DBV212-4 has been designed for the bass players out there who are tired of turning their cabinet on the side to feel the power in rehearsal or on stage. The pair of vertically aligned 2×12" vintage-voiced HH Black Label series ceramic drivers push 500 watts of power your way whist the 1″ LaVoce DF10 Compression Driver keeps the detail intact. You'll feel the air move with this one, too.
Finally, the 4 X 10" HH Blue Label Drivers on the Laney Digbeth DBC410-4 cabinet partnered with the 1 X LCT-1 Piezo horn preserve all the heavy bass tones you need whilst ensuring the clarity of your top-end frequencies can still be heard. This is ideal for session musicians, mid-size venues and rehearsal rooms.
Laney Digbeth Preamp Pedal – A Floor-Based Preamp And Portable Bass Amp For Your Backpack
The Laney Digbeth series also includes a custom-built preamp that allows you to take your bass amp sound with you anywhere.
The Laney Digbeth DB-PRE is perfect for gigging without an amp and setting up in seconds – especially useful at a festival changeover. This floor-based preamp includes all the sonic capabilities of the Digbeth bass amps, but compacts them into a handy preamp pedal that you can send directly to the front of house ensuring you get the near-exact same sound in each venue or live stage! The DB-PRE preamp pedal is packed full of great features that you can read about here.
A bass preamp pedal offers huge benefits that can really take your sound to pro-level quality.
Now onto the reasons, you'll love the Digbeth series…
5 reasons You need the Laney Digbeth Series in your setup
1. Tilt Function
One of the key issues bass players face onstage is the lack of high end at live gigs or lack of presence on a hollow stage. It's no one's fault, it's just the way it is in a particular "roomy" venue or when monitor speakers aren't up to scratch – it happens. One of the best features within the Laney Digbeth amp series and preamp pedal is the Tilt functionality. This was originally introduced in the Nexus series offering a powerful See Saw EQ function that can either instantly bring out the high frequencies or boost the low frequencies depending on your environment. It's now available in the Digbeth series due to phenomenal demand from players.
Does your tone sound a bit muddy or lack detail onstage? Turn the control clockwise to increase the mid to high frequencies and bring out the presence and high-end detail. Got yourself a hollow stage? Bring back the heavy boom, thump and low-end power by turning the tilt feature anti-clockwise. This is probably one of the most useful controls for bass players in need of a quickfire way to engage a bass cut off or treble cut off without completely readjusting their amp sound.

2. Ground Lift Function
One of the most unpredictable things about playing in a live band is the quality of electrical power in venues. The ground lift function makes the Laney Digbeth bass series one of the best bass amps for touring America, Europe and pretty much anywhere in the world – no matter the quality of power, you can safely reduce hum and unwanted distortion by engaging the ground lift feature. This is a particularly underrated feature that pro-level bass players will appreciate, especially when power can be particularly unpredictable at festivals.
Simply engage the ground lift and eliminate unwanted hum and buzz for a cleaner sounding performance.
You may never need the ground lift, but when you do, you'll be glad you have it on your amp when there are people there to see you play!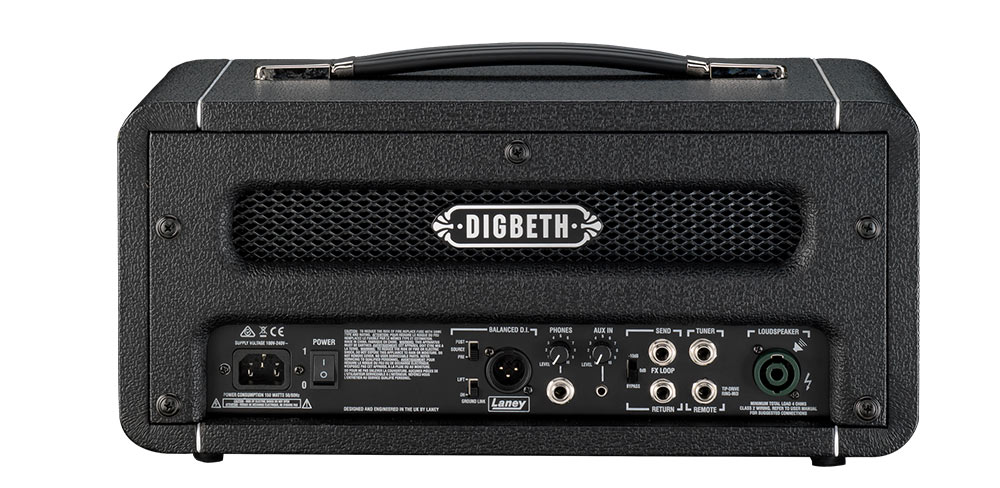 3. Mixable FET & TUBE preamp sections
The Laney Digbeth series was designed for layers of all styles. Whether you want the option of a clean sound one day and a heavy metal tone the other, you have it to hand. The switchable and mixable FET and TUBE preamp sections on the bass amps and Digbeth DB-PRE preamp pedal include the ability to change these channels via footswitch or push/pull knob.
Channel 1 is the solid-state FET sound which provides incredible high-volume headroom and clarity. Channel 2 is the tube emulated setting which responds incredibly well to the nuances of your playing when you dig in – it's all the tube dynamic and harmonic quality you need without the unpredictability of an actual tube amp.
Use the onboard transistor and tube preamps controls in isolation or mix/blend them for a signature sound. A key benefit here is the ability to retain clarity when you activate that tube saturated overdrive. You have the high-end detail of a transistor amp and the weight, presence and grit of a tube amp in one sound!
4. Power you can actually work with
Tired of lacklustre power onstage or in the studio? Laney Digbeth has got you covered. With both heads, you have either 200 watts or 500 watts to choose from, backed up with cabinets capable of 1200, 600, 500 and 400 watts of power pushing some serious air around thanks to custom made HH speakers specifically tuned for this series.
The addition of compression drivers on the cabs allows you to retain detail and clarity at the highest of volumes.
Whether you're playing smooth jazz in a smoky bar somewhere in Colorado or hammering out death metal riffs in German rock festivals – everyone will hear you.
5. Aux and Headphone level controls
The Laney Digbeth Digbeth DB500H series introduces volume controls for the headphone output and auxiliary input for an external media connection. Practising at home or before gigs just got easier!
This means you can play along quietly in your bedroom or in your studio space and learn those parts you need to before the next show or recording session, able to retain the volume of your bass amp and gently introduce the AUX so you're crystal clear on how your parts sound. This is ideal for those travelling musicians or studio sessions where you have to create and learn parts on the fly before laying down final tracks – because let's be honest; as musicians, we're not doing our homework until the last minute!
Laney Digbeth FAQ's
We've answered some of the most common questions we've found on the internet regarding the Laney Digbeth Series.
Is the Laney Digbeth series a tube amp?
No, it is a meticulously designed tube emulation, providing the grit, dynamic and weight of a tube amp sound. This ensures you have a reliable gigging bass amp free from the cumbersome weight of a tube amp and never have to worry about tubes breaking or coming loose.
Do Laney Digbeth cabs have wheels and recessed handles?
The Digbeth DBV810-4 and Digbeth DBV410-4 cabinets have wheels and recessed handles. All cabinets have recessed handles, but the DBV212-4 and Digbeth DBC410-4 do not have wheels.
How many watts are the Laney Digbeth Bass amps?
The Laney Digbeth DB500H is 500 watts, the Laney DB200H is 200 watts and the DB200-210 combo is 200 watts.
Do the Laney Digbeth amps have an FX loop?
Yes, all amps in the Digbeth series have an FX loop and the Digbeth DB-PRE preamp pedal features connectivity for FX Send and Return.
Final thoughts
And there you have it, 5 reasons you need the Laney Digbeth amplifier, cabs and preamp series. Whether you need a bass amp for touring the USA that can handle any dodgy venue electrics, a festival-ready bass amp that you can actually hear on stage or a preamp pedal for ampless gigging – you're covered.
Check out the full Laney Digbeth Range and watch below as Fenn talks us through even more features and how the Digbeth amps respond beautifully to our Black Country Customs pedals.