When you make it, but have to change career. How Larry Hibbitt went from playing guitar in Hundred Reasons to producing some of the biggest rock records of the past decade…
Larry Hibbitt has a long history with Laney, all starting back in the mid-90's when he found himself interested in music and bands while attending Heatham House Youth Centre in Twickenham, West London. There was a spark ignited and a passion that has seen him play some of the biggest stages in the world as guitarist for his band Hundred Reasons, but also get behind the desk on some of the best rock records of recent times, producing Marmozets debut record 'The Weird and Wonderful Marmozets and the now seminal 'Celebrity Mansion' by Dinosaur Pile-Up.
Larry almost found playing guitar and producing at the same time as he recalls:
"I really enjoyed putting on bands at our youth club, but also being in them, and then recording them as Heatham House had a small studio, so I guess the passion for both playing and producing started there at roughly the same time."
Fast forward a few years and Larry found himself signing to Columbia records in the year 2000 with his band 'Hundred Reasons' going on to release four albums with their debut reaching number 6 in the UK charts, a massive achievement when you consider downloads and streaming either weren't recognized or couldn't be done at scale during that point.
Heading into 2009 and Larry found himself seeking new ventures and the love of producing never faded, moving into the producer and writers seat working with such talents as: Nothing But Thieves, Don Broco, Sundara Karma, High Tide and Saint Raymond to name a few, however where things moved up a gear was when he produced 'The Weird And Wonderful Marmozets', which if you couldn't tell by the title, was the debut record for British rock band Marmozets:
"I love that record, for lots of reasons, it was my first step in my career as being a 'proper' record producer. I am also just really proud of it, it's a big guitar record and the Laney Klipp is all over that record."
A big fan of Laney, Larry mentions his 'secret weapon' in the studio is his all original mid-70's era Laney Klipp. As he said, it is all over that first Marmozets record, but his love of our amps didn't stop there, in fact his first amp was a mid-90's Laney GC120C, a solid-state 2×12 Laney combo, jumping forward in time and now he has an eclectic mix of old and new Laney amps including the very rare and obscure late 70's 'A 100' and the brand new and exciting Digbeth DB500H and LA30BL.
"First impressions of the LA30BL are: it's amazing. It has that Sabbath tone that I know and love, but it also has elements that you would be hard to find in some of the older amps. It being 30 watts, past 4 on the gain knob and it doesn't get much louder but you do get that compressed sound which is so integral to so many of the greatest rock sounds ever, non-more so than Iommi himself."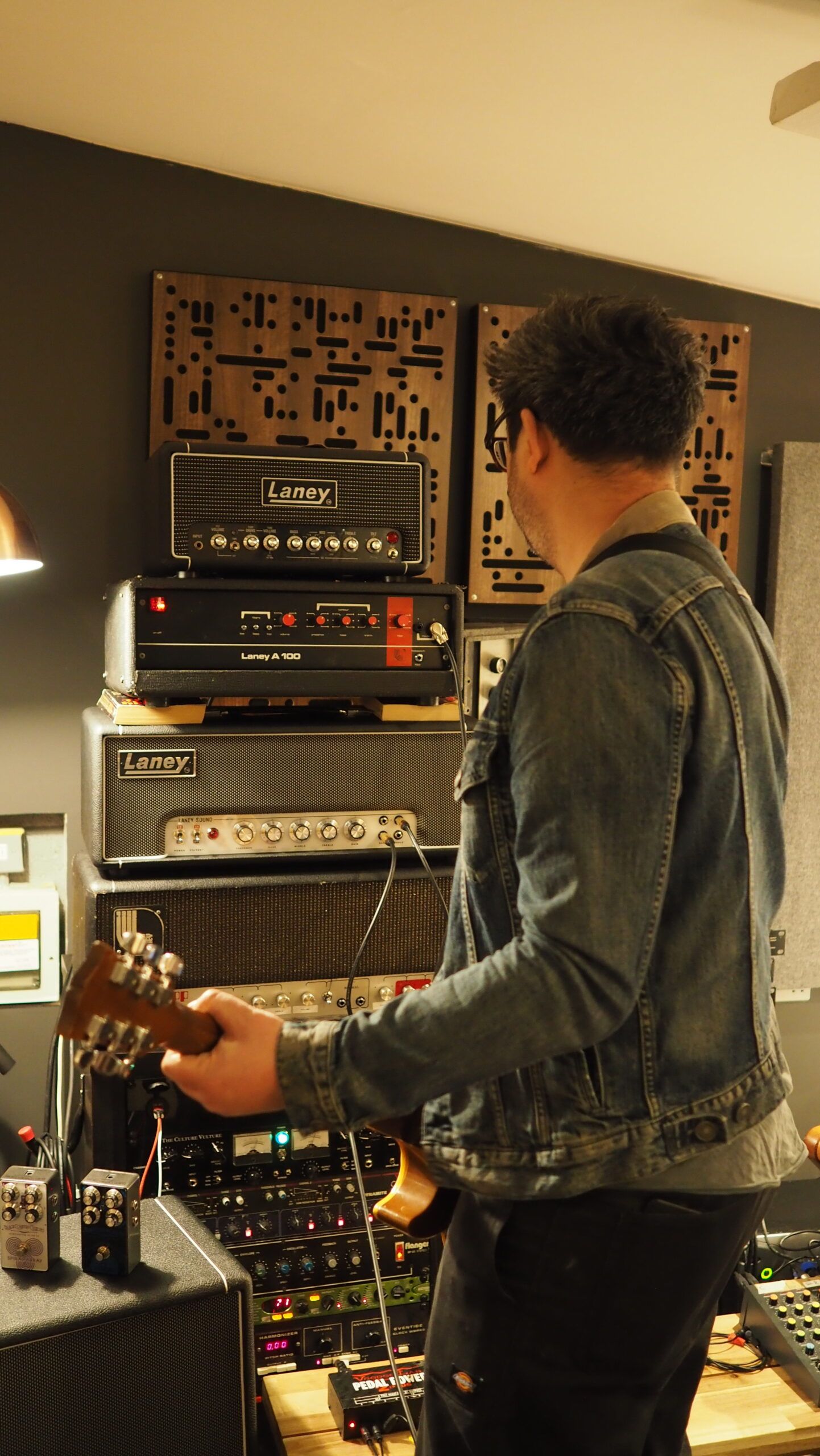 When talking about his achievements as a producer another band that strikes a note with a record that Larry produced to huge critical acclaim and commercial success is the seminal 'Celebrity Mansions' by Dinosaur Pile-Up. Matt Bigland (guitarist/singer) is a Laney player (Ironheart IRT120H) and the mix of them stacks with Jim Cratchley (bassist) and his Digbeth rig (DB500H) brought some serious sounds and riffs to that record, but getting Matt's amp recorded was easier than you may think, logistically at least:
"They actually rehearse next door to here (Larry's Studio in Brixton called StuStuStudio), so we literally dragged his Ironheart rig over and got it recorded, quite handy being next door!"
There is plenty more on the horizon and the future for Larry Hibbitt, including a return to live shows with his band Hundred Reasons, initially conceived to happen in 2022, because of the continuing tail-end of the Covid-19 Pandemic, that has been postponed to 2023, which gives Larry more time to get the songs just right and produce some more records!
You can watch the full interview with Larry and hear the sounds of his incredible Laney collection over on our social media channels:
www.instagram.com/laneyamplification