Out of The Darkness cometh LIGHT!
In the modern era of rock and roll, there are few artists who truly achieve Rockstar status. Then, in 2003, a little band from the east of England well and truly exploded onto the scene. Nearly two decades later, after a split, a comeback, a mighty new album called Motorheart, and a band that are stronger than ever, they are The Darkness. He is Justin Hawkins and he is an official Laney artist playing a very special amplifier called the JH3000…
Justin Hawkins, a household name, has never settled with one amplifier brand, never quite finding the comfort and confidence in sound with his backline, until now.
We initially spoke to Justin about his kind of tone, and it is a tone we were not expecting. A much higher gain than you might anticipate for a player of 'classic rock' or 'riff' style playing, so the initial idea about a Supergroup or Lionheart style amplifier was quickly deemed not 'out-of-the-box' heavy enough. Step forward the Ironheart, the IRT120H to be specific, a perfect blend of high gain, channel options, FX Loops and back panel options.
The Birth Of The JH3000
Now that the amp was decided upon, Justin mentioned that he had always wanted to create something special with the right amp and right brand:
"I think the best thing about being in a rock and roll band is being able to collaborate with companies like Laney to create your dream amp. I've always wanted to have a range of products named JH3000 and I think eventually we'll be doing a bundle where it's JH3000 Country & Western shirt AND amp."
Country & Western shirt you say… Justin had a special suit made for the Laney interview, complete with special JH3000 logo on the shirt collar, which, of course looked absolutely phenomenal: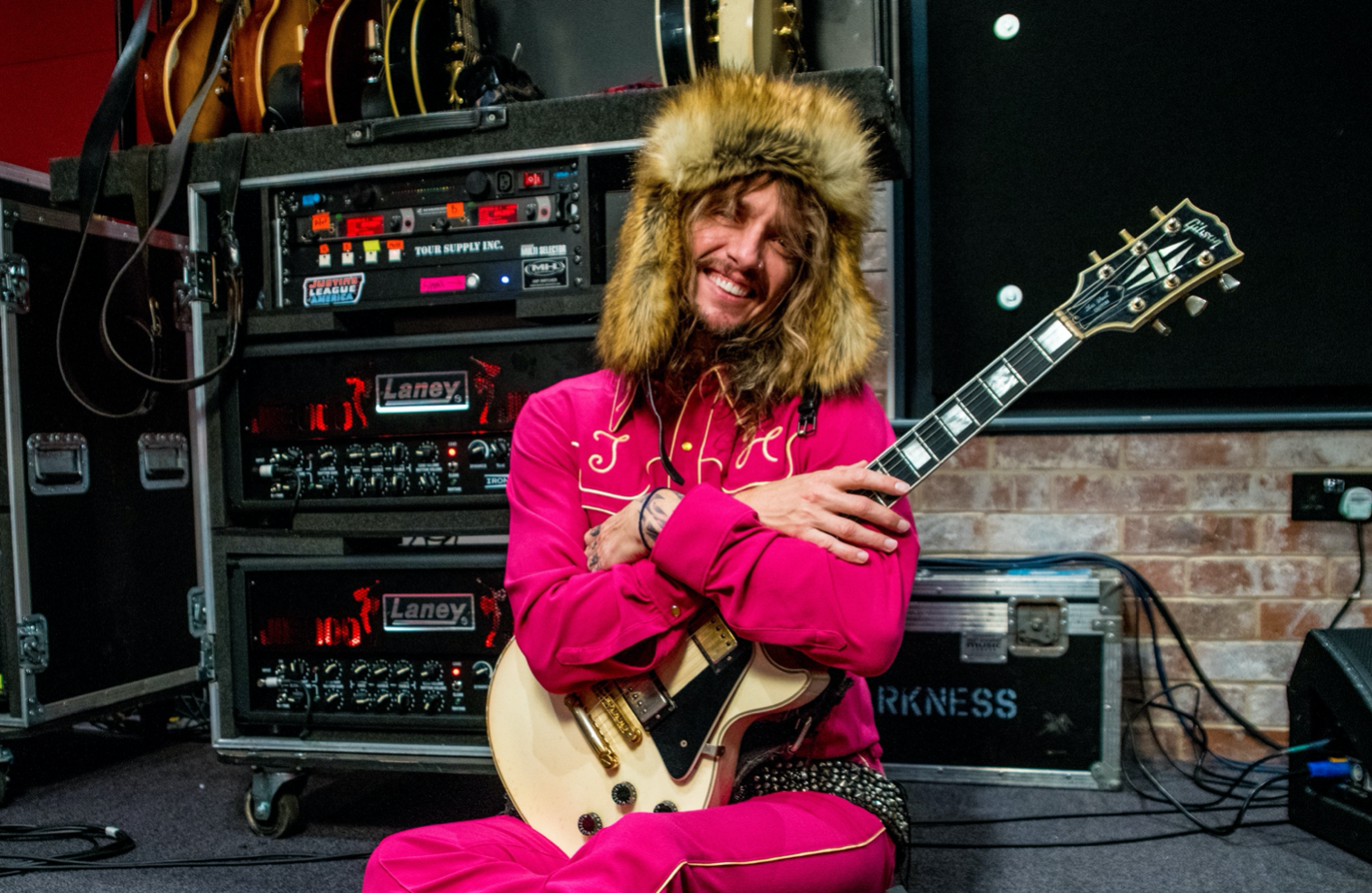 Justin Hawkins on Lionheart & Black Country Customs
There it is, the JH3000 in all its glory, Justin next to it, as happy as can be!
If you've watched the interview, then you will have noticed that it's not just the JH3000 amplifiers that Justin is using, but the Lionheart 4×12 cabinets too, specifically loaded with Celestion G12H 16ohm Drivers, a loud and driven choice, and the perfect match for Justin and the sound of The Darkness.
The actual difference between the JH3000 and an Ironheart is very subtle, the JH3000 is an IRT120H with a special custom-made front grille, so it still glows blood red, still has the reliable IRT tone but this one has the special Justin Hawkins touch, an extra bit of flare on the aesthetic side of things as Justin explains:
"So the JH3000 is essentially an Ironheart, it's a beautiful, responsive, saturated, powerful amp that hits you in the guts AND in the face, at the same time."
But it isn't just the Laney amps and cabs that Justin is using, the Black Country Customs Secret Path Reverb Pedal is something that went straight onto his board, for an extra little bit of space added to his tone when doing a monster solo. To end though, it is much easier to let Justin explain why being with Laney is the right choice:
"People who resist the Laney tone will fall."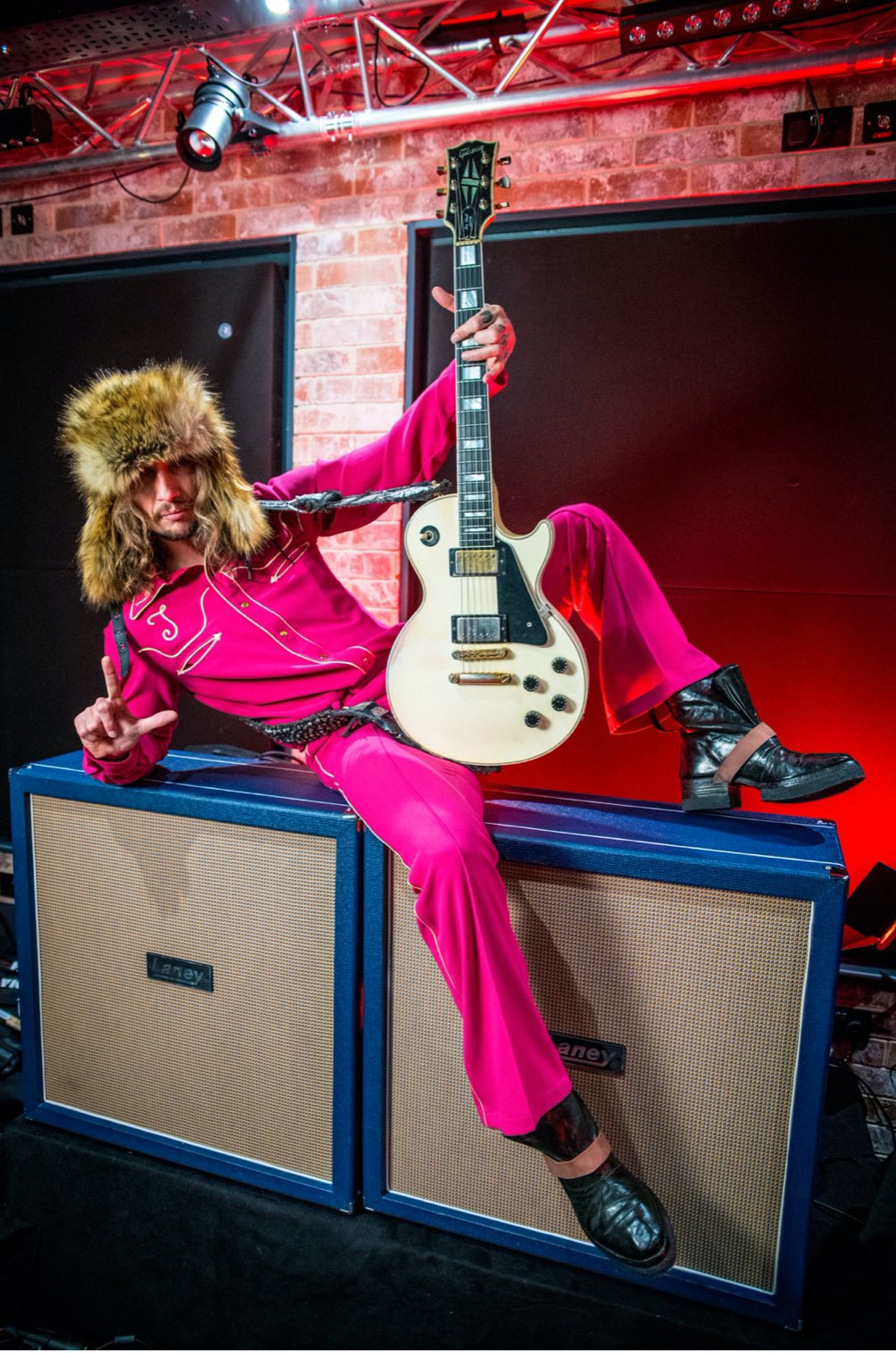 Justin Hawkin's Laney Rig:
HEAD: JH3000 (IRT120H w/ Custom Grille)
CAB: L412 (loaded w/ Celestion G12H 16ohm)
PEDALS: Black Country Customs Secret Path