Here are 5 key features, benefits and reasons why you need the Black Country Customs The Difference Engine Delay Pedal on your board. Could this be the best delay pedal of 2022?
New from Black Country Customs, The Difference Engine Delay Pedal has taken one of the most popular guitar and bass effects and distilled it down to a modest range of features that you'll actually want to use.
Sturdy. Quick to adjust. Fun. Everything a guitar delay pedal needs to be.
This is a multi-delay pedal designed to be used straight out of the box. It's a workhorse boutique delay pedal that is easy enough for beginners to control with enough power for professional musicians designed with quick access features that live guitar and bass players will appreciate.
It's a delay pedal for the discerning players out there who want to be able to craft their own delay as well as those guitar and bass players who want to emulate the sound of their heroes thanks to custom artist programmed delay settings.
We think it's the best delay pedal of 2022.
So why is it different? What are the key features and benefits of The Difference Engine Delay pedal?
Let's dig in!
5 Reasons You Need The Difference Engine Delay Pedal – the major benefits explained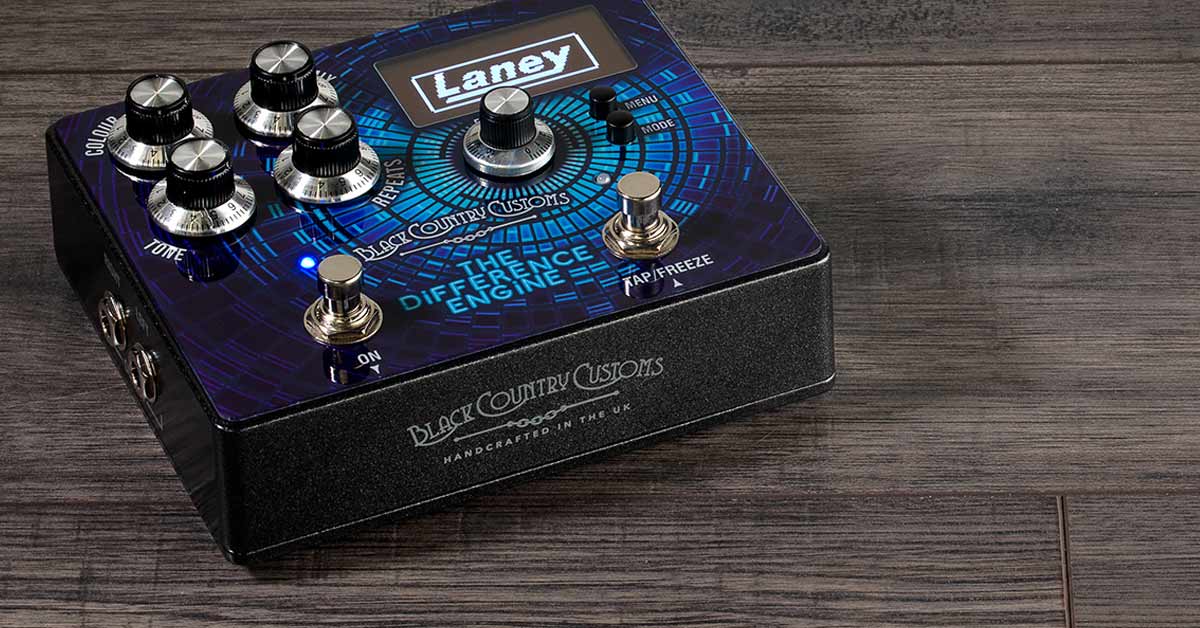 We'll explain further in this article, but here are 5 reasons you need The Difference Delay Engine:
3 eras of delay – modes you'll actually use
Combine each delay mode for unique sounds
50 artist pre-sets
It's actually easy to use
All the connections you'll ever need
Of course, there are tonnes more – as you can see from the video below, but we'll be here all day! Let's look closer at 5 cool features.
1. 3 eras of delay modes you'll actually use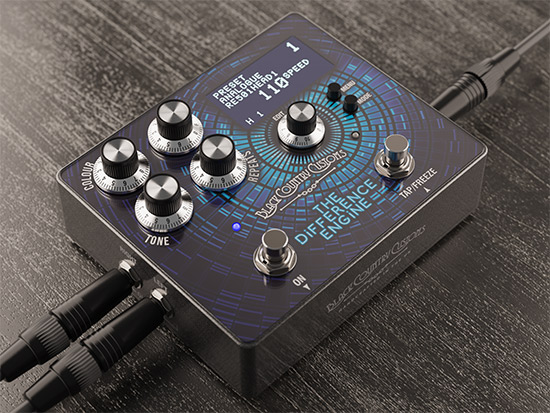 We think this is one of the best multi delay pedals on the market today thanks to the fact that it includes 3 eras of delay that you'll actually want to use. Analogue, Digital and Dynamic.
There are plenty of delay pedals out there with multiple delay sounds that you'll likely never want or need. These additional delays tend to clog up the interface and get in the way when it comes to selecting a sound. It's a paradox of choice!
This is where The Difference Engine is… different!
The Difference Engine Delay Pedal makes great use of three carefully sculpted modes of delay offering the best of each world. It's everything you need and nothing you don't.
The Analogue/Tape Era Delay is modelled around the RE space echo family, which beautifully captures the warm sounding analogue tone complete with unpredictable warbles and tape artifacts such as WOW and Flutter – it sounds like you're hooked up to a vintage machine. You get straight delay from a single head or multi-head delays to achieve that classic overlaid delay effect as heard on vintage albums and the likes of The Verve's Urban Hymns. You also get 1250 MS of delay time which is perfect for those Floyd style solos.
Like the 80's sound? Well, you'll love the Digital Era delay which is inspired by the 80's style delays complete with tap tempo and freeze functions. The cool thing about this era of delay is that it adds a modulation effect on repeats so you can have that chorus style sound you'll recognise from your favourite records (and guitar solos) of the 80s. Enjoy up to 2500 MS of delay and feel the overwhelming swell of the Freeze function when you need to transition into a chorus or new verse.
Finally, the Dynamic Delay Era provides a modern 90's style delay complete with modulation and ducking features. This is fist-pumping delay sounds at your disposal.
This particular style of delay era is based on the coveted 2290 delay and offers that lush Ducked digital delay effect that gets louder when you stop playing, to fill in the gaps. You also have a whopping 2500 MS of delay, and modulation on repeats, but it gets REALLY interesting when you engage the phase reversal feature.
The phase reversal feature kicks on the delay repeats which gives you the effect of a wrap-around delay for a full-bodied, completely mind-blowing sonic effect. The addition of a multi-tap delay feature also means you can create the illusion of multiple guitarists playing the same part – very useful for ambience sounds and rhythmic effects which makes this pedal one of the best tap tempo delay pedals available today.
This is one of the key reasons you need the difference engine delay pedal if you're a performance or recording guitarist – it offers incredible versatility without becoming overbearing.
2. Combine each delay mode for unique sounds
If you love the unpredictable warble and flutter of a tape echo delay, yet want the predictability and solid foundation of a digital delay to keep you on track in a live scenario, you'd normally have to have two separate pedals.
This is one of the key benefits of the difference engine delay pedal – it allows you to mix and combine features from each delay era to create your own sonic footprint.
This is perfect for those who want the sound of The Edge's analogue effects in Joshua Tree, but the razor-sharp digital delay power of an 80's theme tune (Transformers anyone?) at the same time.
You can combine delays and create completely unique sounds to your liking, saving them as a preset for later recall. Just another reason you need the Difference Engine Delay pedal!
Thanks to the fact it's a multi delay pedal that allows you to combine delay eras, this makes it one of the best delay pedals for worship pedalboards as you have all the key sounds you need in one space-saving pedal.
3. 50 artist pre-sets
Some of the greatest guitar players in the world have created custom patches based on their signature sounds for The Difference Engine Delay pedal. Laney artists such as Tony Iommi, Justin Hawkins, Brian May, Cory Wong, Lari Basilio, Vernon Reid, Tom Quayle, Martin Miller, Alex Hutchings, Pete Honore, Billy Duffy, Jack Gardiner and many more have submitted incredibly useful patches that will get you started on some seriously cool sounds straight out of the gate – try rocking out the Tony Iommi Patch for 'Supernaut'!
In addition, Black Country Customs engineers have also meticulously designed patches in the style of Slash (Welcome To The Jungle, anyone?) EVH, Andy Summers and The Edge making it easier to get the exact delay tone – no dialling in, just select the patch you need!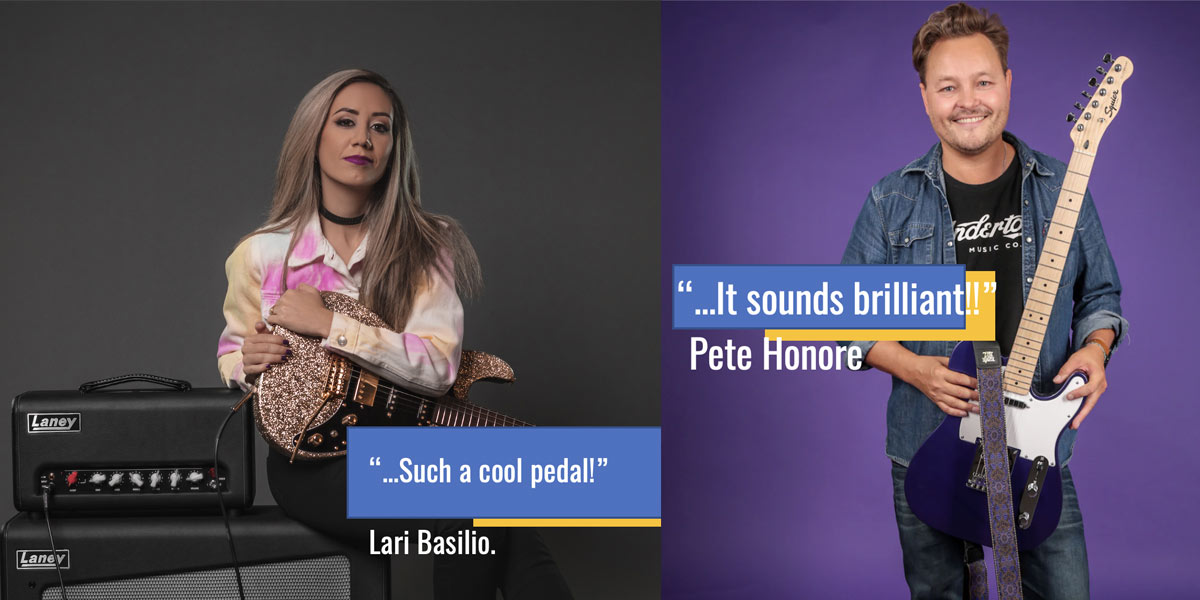 Here's what some of the artists have to say about the Difference Engine delay:
Martin Miller. "…The core sound is very good! I especially enjoy what the colour-function is doing to the sound and the tape delay is especially cool"
Tom Quayle. "…I am amazed at how intuitive and easy this delay unit is to use (no manual required!) and the sound quality is off the charts, especially the incredible analogue tape delays and modulation"
Pete Honore. "…It sounds brilliant!!"
Alex Hutchings. "…the sign of any great bit of gear is that you can lose yourself in the Music, I really enjoyed it – sounds great, looks cool and the screen is brilliant".
Max Clilverd – Tom Odell. "…It's an amazing bit of kit, really intuitive"
4. It's actually easy to use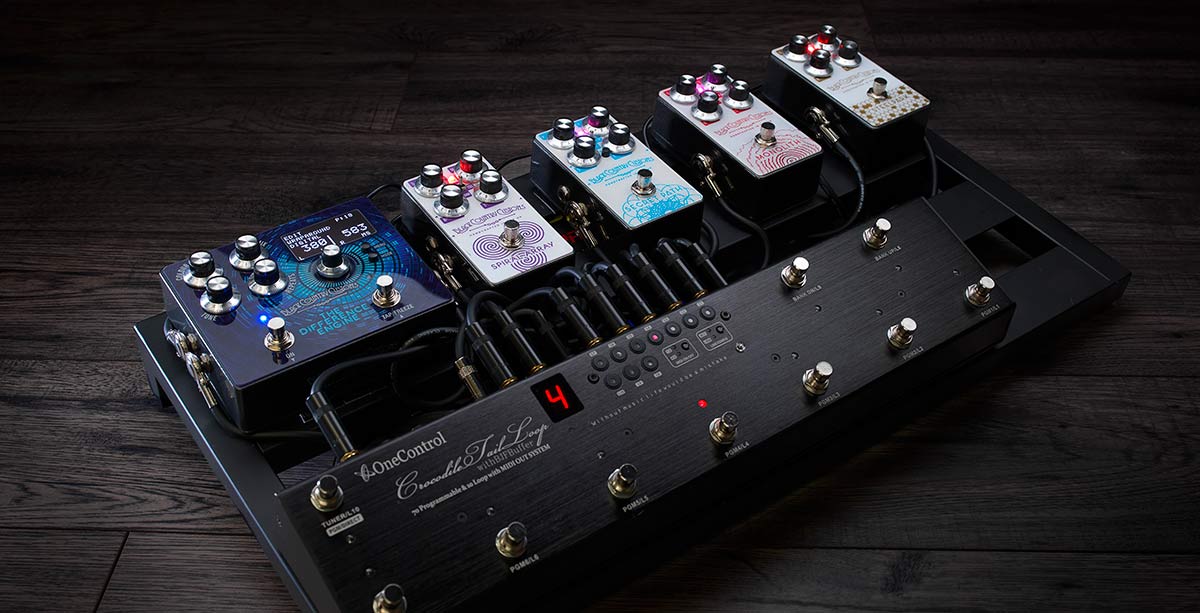 The Difference delay pedal is one of the best tap temp delay pedals on the market that is actually easy to use. Whether you're a live guitarist looking for a worship delay pedal that will allow you to flick between settings quickly or a studio session guitarist that needs to be on their toes when it comes to genre changes – you're covered thanks to the easy-to-use interface.
It's also actually a lot of fun too!
Let's say you need to shoot between pre-sets. Use the left switch to tap through each one, or if that's too slow, hold it down for a faster scroll. This is an underrated feature that will make your life onstage a lot easier!
If you need to change delay MS, you can use the Edit control to select the unit of values to be edited. Press once for seconds, again for tens, again for hundreds – long delay times can be achieved very quickly.
The Edit control lets you select specific parameters to control within the pre-sets, but the addition of the Colour, Mix, Tone and Repeats surface controls via rotary knobs give you instant control over each delay effect. Tweak as much as you need to on the fly. Need more modulation You got it. Mix too loud? Back it off quickly.
5. MIDI & Stereo Connections
The modern musician needs plenty of different connection options. Whether you're an audiophile who needs the ping pong delay sound of running two amps together for a stereo delay effect live, the audio purist in need of an FX loop connection or the studio engineer who wants to trigger MIDI changes – you're covered with the Difference Engine Delay.
In this compact, robust delay pedal, you have a MIDI input and output, which supports both MIDI cc and program changes and allows you to seamlessly integrate the pedal into your pedalboard or synth set up. The Stereo in and out and an expression pedal input allow you to enjoy that dual amp sound, FX loop clarity or tonal control via a footswitch.
Easily one of the best multi delay pedals for 2022 that musicians will be able to get to grips with straight out of the box.
A great delay pedal for keyboard players, guitarists and studio owners.
Final thoughts on The Difference Engine Delay Pedal
The Difference Engine Delay pedal is a multi-delay, tap tempo pedal that puts the fun back into delay pedals. Where some delay pedals get you bogged down in the nitty-gritty, this pedal lets you create incredible sounds straight out of the box, quick changes on the fly in a live scenario and gives you enough room to sculpt your sound when you need it.
It's not what you play, it's what happens next. Check it out today at your local dealer, or get the boutique delay direct from Laney online now available in strictly limited quantities.
Check out the full Laney Amplifier Range and view more of our Black Country Customs pedals.