Malevolence are making HUGE waves in the metal scene. That isn't a statement of intent, that is just a fact. The Sheffield five-piece have humble beginnings but are on the rise and their set at Bloodstock Festival 2021 was concrete evidence of this.
With the privilege of knowing Josh (guitar), Kon (guitar) and Wilkie (bass) for a few years and more recently Alex (vocals) and Charlie (drums), there are very few bands that would accept someone so willingly into their camp. In their case, their character and attitude towards everything in music is clear. They love what they do, and they want everyone who is on their wavelength to enjoy the ride too.
Josh, Kon and Wilkie are all Laney players, with Josh and Kon running a very special Laney Ironheart IRT120H head into two IRT412 cabinets and a Kemper Profiler into a Laney GS412VR cabinet. The reason for the Kemper? Keeping the switching of tones from the Laney nice and easy with a simple stomp board on stage so they can keep their attention on the show they play. Wilkie meanwhile runs his brand new Digbeth DB500H into a pair of DBV410-4 cabinets, making a stereo sound that brings a huge all-around bass tone to the stage.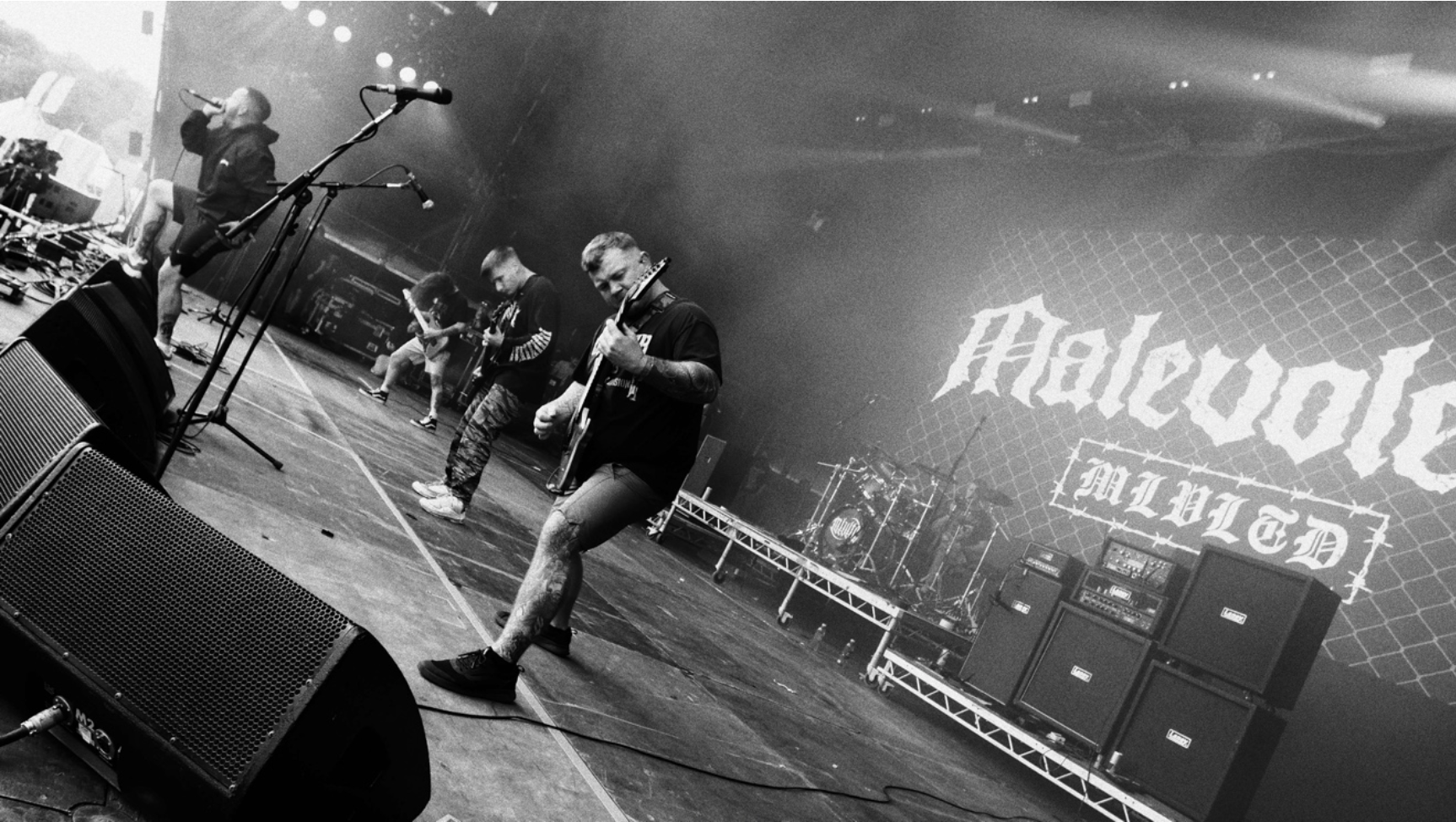 Walls of death or walls of Laney? BOTH!
Now, Malevolence's on-stage sound is something interesting to note. A lot of modern bands will play with silent stages (something that breaks my heart as an amp guy). This means the amps on stage are very quiet, probably close-mic'd, as all the sound the band needs is sent through their in-ear monitoring systems. This means there is usually no amp volume on stage, and this is something Malevolence want, because you will know yourself that there is quite simply nothing like standing in front of an amp with a bit of volume, it brings out your best playing. To quote Josh:
"Well if you've got a stage that big you'd be stupid not to have a wall of amps turned up!"
That is a statement we couldn't agree with more!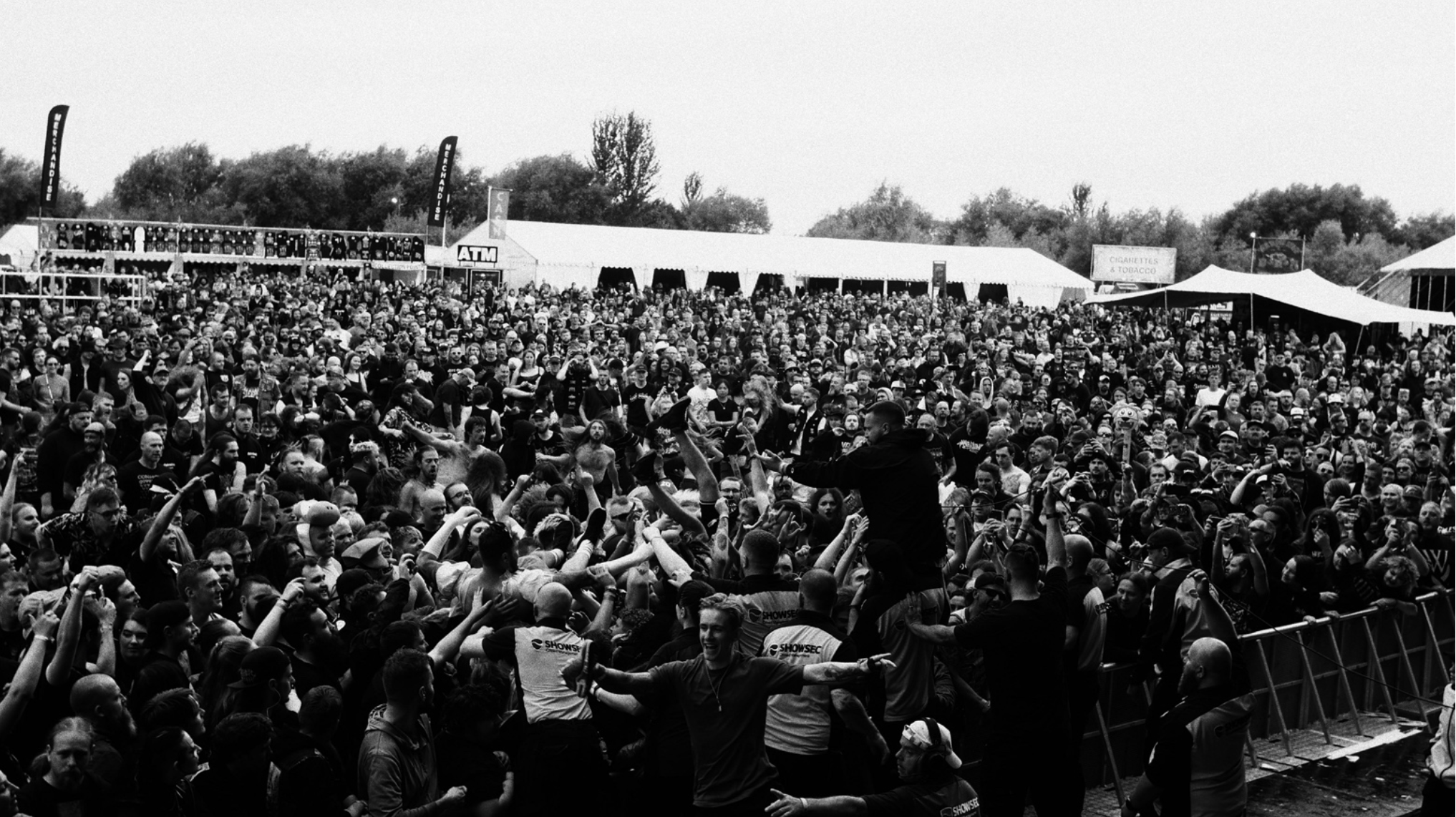 Malevolence at Bloodstock Festival
Loud amps save lives, but loud amps are no use without riffs worthy of saving lives, and Malevolence have riffs like the sea has salt, plenty of them.
Not shy from getting the crowd involved, frontman Alex Taylor got the crowd going like a pro. There were circle pits, a wall of death and, most importantly, headbanging and crowd surfing from minute one of the set. It might have been overcast and threatening to rain, but this wasn't stopping any of the fans – They were going wild and the band were feeding off the energy. 
There was only one moment of reduced pace through the Malevolence set, for their phenomenal song 'The Other Side'. This is a song that some bands may step away from in such a hard-hitting set, but it put the mood of everyone watching into perfect context. It was something a little slower to gain energy back to build up to the final song which absolutely needed every ounce of energy left in that Bloodstock crowd, the phenomenal tune 'Keep Your Distance'.
And just like that, the Malevolence Bloodstock 2021 set was over. Here's to the future of Malevolence and the next time we are experiencing the power these lads bring to a stage! If you haven't checked them out yet, you can find out more here.
Written by Fenn Alexander, Laney Artist Relations Manager